GATX
Decommissioning, Demolition, Environmental
R. Baker & Son 40 Hour Hazmat trained crews performed the total plant decommissioning of a bulk oil storage terminal. The project required the demolition of 150 aboveground bulk oil storage tanks. The project also involved the cleaning, decommissioning and recycling of 10 miles of product pipe lines including the draining and providing the newly devised R Baker & Son patent pending pigging process of 40,000 barrels of #3 oil that was collected and recycled.
Before the demolition of the bulk oil storage tanks, the owner was required to certify that the tanks were gas free by a marine chemist.
Each bulk oil storage tank was surrounded by a soil berm and dike wall. R Baker & Son developed a work plan and methodology that first required our crews to make an entry/egress path through each and every soil berm, to make this path crews utilized excavators equipped with buckets to make an area for entry and then made within the berm a clear staging area for the dismantled tank steel debris.
The tanks were then dismantled into large pieces with excavators equipped with shears and grapples. The steel sections were sized initially into 15'x 18' pieces, then crews donned with torches perforated the steel sections in half and the operators were able to fold the steel sections in half in order to be placed neatly into containers for disposal. This method maximized the loads for recycling and disposal.
After the storage tanks were removed, all voids and depressed areas were graded for safety.
R Baker & Son finished the project before important corporate milestones deadlines, with zero Osha recordables and within budget.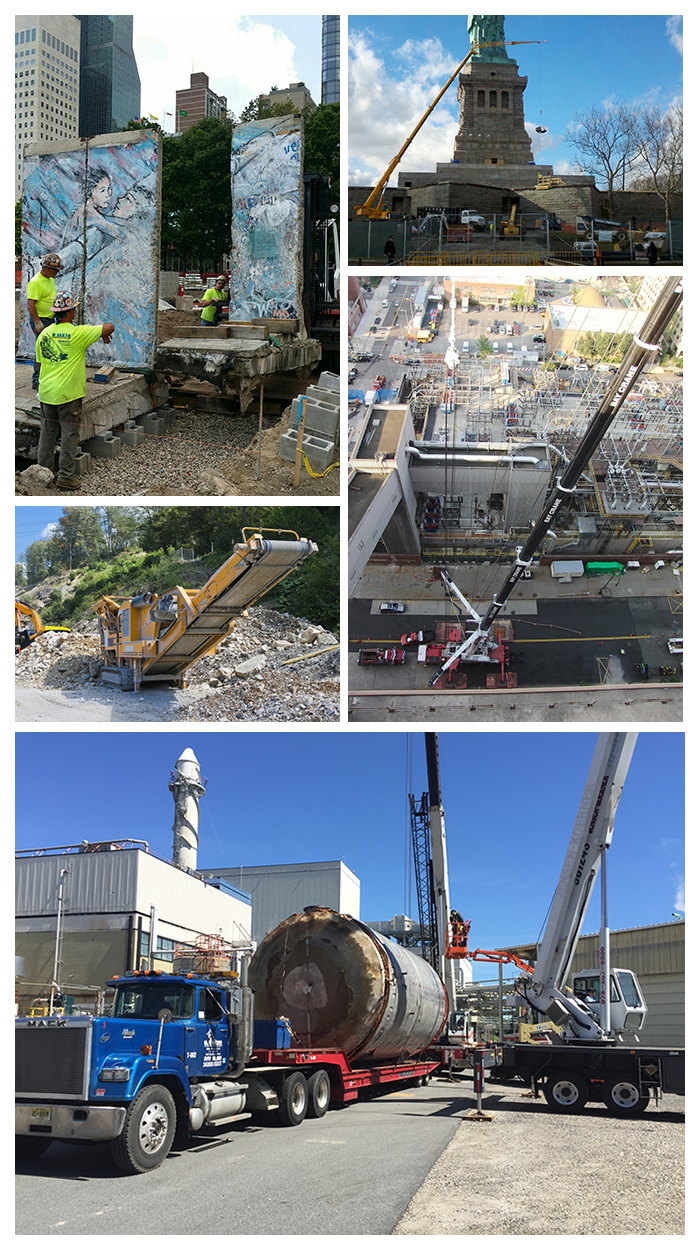 Decommissioning
Demolition Contractors in New York
Environmental Services
Investment Recovery
Plant Relocation
Selective Demolition
Trucking / Warehousing
Curtain Wall
Demolition Contractors in New Jersey
Dismantling
Interior Demolition
Plant and Machinery Movers
Rigging
Total Demolition
Wrecking / Razing