Colgate Palmolive
Rigging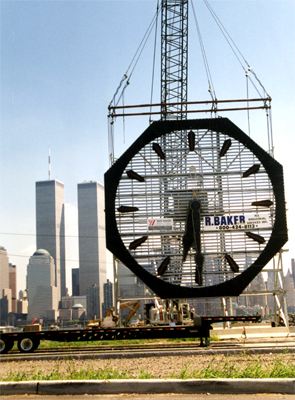 The landmark backdrop to the Manhattan skyline, the Colgate clock which was originally mounted on an eight-story manufacturing building was built in 1924. The clock standing seventy feet high and fifty-four feet wide is the world's largest working vertical face clock, as noted in the Guinness Book of World Records.

Colgate-Palmolive Company entrusted R. Baker & Son to protect, rig and relocate both the clock and the adjacent 90 by 60 foot billboard.

The operation's logistics and rigging were assigned to R. Baker & Son's expert team of ironworkers, engineers, electricians, operators and riggers. R. Baker & Son's team decided to move both the sign and clock and its 70-foot high steel frame in one piece rather than dismantling and reassembling them.

R. Baker & Son went to great lenghts during the planning stages to assure that all concerns and aspects of this complicated project were addressed. A structural survey was performed as well as engineered rigging and lifting plan was developed. Plate bearing capacity tests over the course, which the crane was to travel, were performed. Wind speed was charted for a period of two weeks prior to the lift.

Upon final setting and field certification welds and anchoring systems a post inspection analysis was performed to verify that all aspects of the project were performed to the highest standards of quality.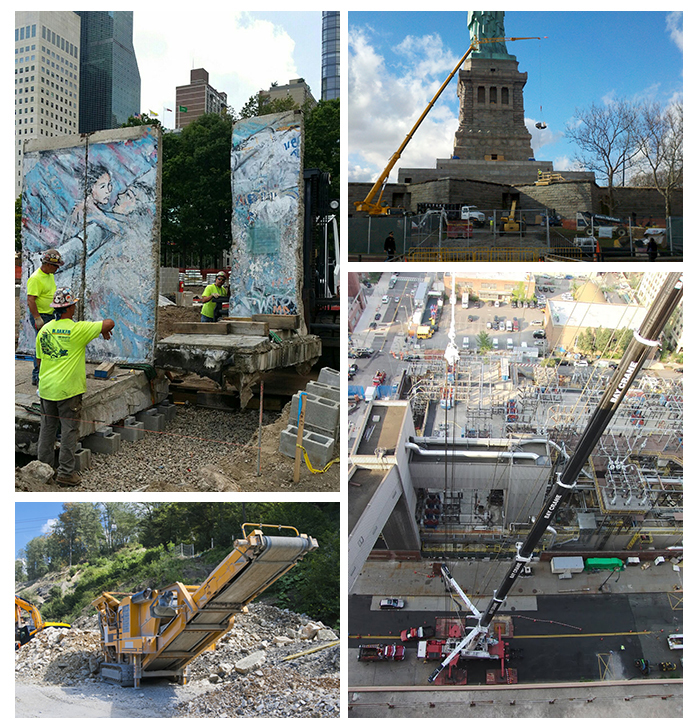 Decommissioning
Demolition Contractors in New York
Environmental Services
Investment Recovery
Plant Relocation
Selective Demolition
Trucking / Warehousing
Curtain Wall
Demolition Contractors in New Jersey
Dismantling
Interior Demolition
Plant and Machinery Movers
Rigging
Total Demolition
Wrecking / Razing