Selective Demo and Decommissioning, Pharma
Selective Demolition, Decommissioning, Environmental Services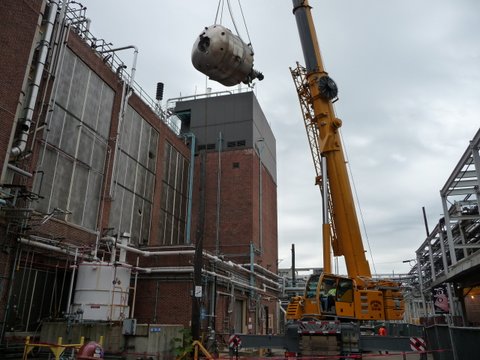 The four-story facility constructed of steel frame, block walls and floors, was a former vertical process facility. The building was approximately forty-five years old and was situated between several other buildings near the busy plant entrance. Baker was contracted to perform decommissioning and demolition work throughout the facility to prepare it for complete renovation of labs and process suites, as well as new open-architecture office space.
As on all projects, R. Baker & Son prioritized the safety of both client and project personnel. A full safety review was performed and site specific safety plan (SSSP) was presented for review and approval, along with a task hazard analysis detailing all major project undertakings. To ensure uninterrupted services for the surrounding buildings and work spaces, a Method of Procedure (MOP) outlining the sequence in which work would be performed, was assembled. Permits were obtained and a full project schedule with major milestones was presented to the client.
Challenges presented by the project included the removal of various tanks, piping, walk-in boxes, freezers, milling equipment, and packaging lines. Some of the equipment, including hydraulic compactors, were carefully packaged and skidded along with their control panels for reuse or sale. Refrigerants and oil were reclaimed from DX systems, as was hydraulic fluid from various pieces of equipment. Ballasts and fluorescent tubes were also carefully collected. All recovered substances and materials were packaged and labeled for proper recycling and disposal. Though asbestos and lead abatement had already been performed prior to demolition, Baker maintained a careful watch for ACMs and LCMs throughout the project.
Once pre-demolition activities were completed, R. Baker & Son commenced decommissioning, asset recovery, and demolition. Teams consisted of several riggers and millwrights, along with twelve demolition technicians, four equipment operators, on-site project manager, and safety manager. Equipment utilized on the project included Liebherr 130-ton and 80-ton hydraulic cranes, Hyundai propane forklifts, and three Brokk remote-controlled demolition machines with air hammer attachments. Several Bobcats, two large telescopic Lulls, and two 40-ft. JLG boom lifts were used to remove debris. Terracotta tiles were removed and concrete floors were prepped and leveled.
In order to maximize recycling efforts and LEED requirements, masonry, metals and concrete were carefully separated from other debris materials. While some concrete and masonry was crushed and used onsite for grading purposes, the majority was shipped offsite for recycling. Metals were sorted into ferrous and non-ferrous and shipped to a local recycling company. As a result of careful debris segregation by dismantling crews, Baker estimates that approximately 80-85% of the construction and demolition materials were recycled. Not only is it environmentally friendly, recycling is less expensive than sending waste to a landfill and helps to defray project costs.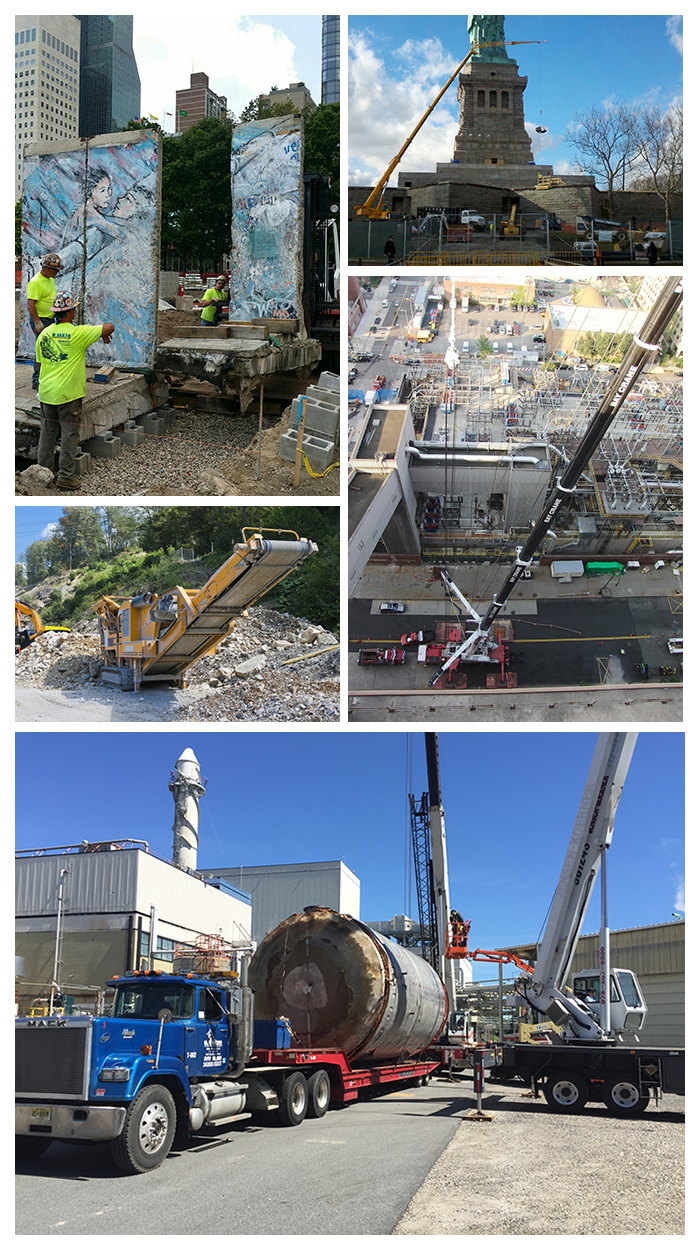 Decommissioning
Demolition Contractors in New York
Environmental Services
Investment Recovery
Plant Relocation
Selective Demolition
Trucking / Warehousing
Curtain Wall
Demolition Contractors in New Jersey
Dismantling
Interior Demolition
Plant and Machinery Movers
Rigging
Total Demolition
Wrecking / Razing