Yankee Atomic
Decommissioning, Rigging, Dismantlement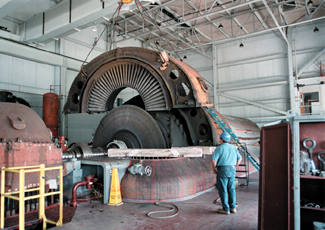 Atop a snowy mountain in the Berkshires, NADC member R. Baker & Son from Staten Island, NY was asked to dismantle and remove the second side of Yankee Atomic's Rowe, MA facility. The project consisted of a 185 MW steam turbine generator and ancillary equipment including a high pressure turbine rotor and blading, an installed low pressure turbine rotor, the generator itself, the rotating and static exciters, the main transformer and the No. 1 station service transformer.
Also included in the removal was ancillary equipment such as a condensing unit, rotating and static exciter with cabinetry, condensate pumps, feed water pump, heat drain pumps, feed water heaters, moisture separators, hydrogen cooling systems, the lube oil system, the throttle and control valves at the head of the steam turbine, the unit's controls, interlocks and a 100-ton overhead bridge crane.
By the very nature of the unit being dismantled, one can see that R. Baker & Son was dealing with a complex project. All of their employees on-site were required to wear radiation detection badges at all times during the project.
Lead abatement procedures were required before all burning and cutting. All loads were radiation-tested before leaving the site and strict load limits were followed during transportation off-site.
Much of the turbine dismantlement was executed by using the plant's existing 100-ton bridge crane. Many of the unit's components exceeded the crane's capacity and required engineered lifts or partial dismantlement. Removal of the 115-ton turbine cover also required an engineered lift. The cover was then cut into four sections for removal.
Next R. Baker & Son turned its attention to the low- and high-pressure turbines, the low-pressure rotor and the generator. Once opened, crews dismantled the bottom portion of the low-pressure turbine, opened the generator and removed the rotor from the stator. The stator weighed 178 tons and had to be dismantled utilizing the overhead crane with numerous snatch blocks to pull the copper windings from the 360 degree interior radius.
After removing the copper coils, the stator was cut into sections in order to meet the load capacity of the overhead crane and transportation load limits.
Next, the unit's condensor was removed by cutting sections of its tubing and loading them into open-topped trailers. All loads required careful and calculated maneuvering to safely reach the valley below the plant.
R. Baker & Son takes great pride in completing this strictly regulated and logistically complex six-month project while maintaining its outstanding three-plus year incident-free safety record.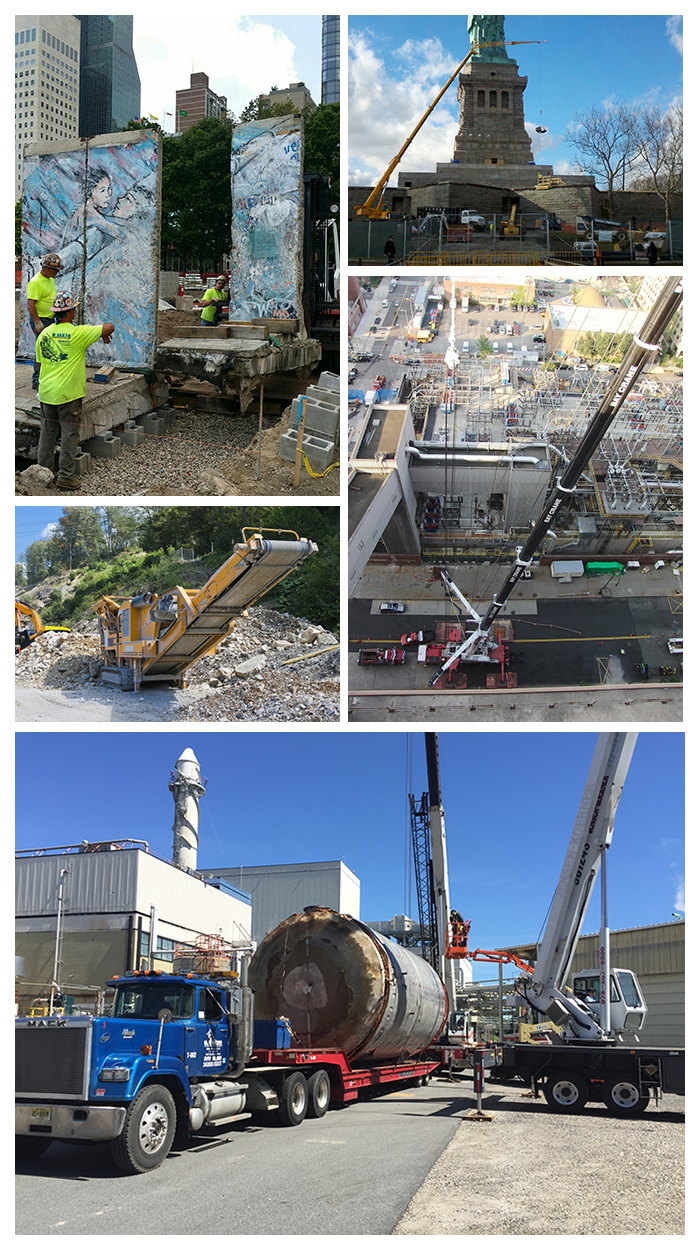 Decommissioning
Demolition Contractors in New York
Environmental Services
Investment Recovery
Plant Relocation
Selective Demolition
Trucking / Warehousing
Curtain Wall
Demolition Contractors in New Jersey
Dismantling
Interior Demolition
Plant and Machinery Movers
Rigging
Total Demolition
Wrecking / Razing