Kings County Hospital
Building Demolition, Demolition Services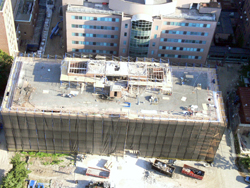 R. Baker & Son All Industrial Services, Inc., a specialized contractor providing total plant dismantlement, demolition and decommissioning services, recently completed an eight (8) phase, highly technical, demolition and environmental remediation project at Kings County Hospital located in Brooklyn, New York.
R. Baker & Son All Industrial Services, Inc. (R. Baker & Son) was contracted by the client to provide a complete turn-key package which consisted of the complete remove of asbestos containing materials, demolition of three (3) multi-story buildings (one 5-story 100,000 sf building and two 1-story 20,000 sf buildings), removal of all piping, conduit and other related services from underground utility tunnel, demolition of all concrete slabs and foundations, removal of one underground storage tank and one above ground storage tank and then restoration and backfilling of the area.
Prior to any work being performed several pre-demolition and abatement tasks needed to be completed. All utilities were disconnected from the buildings and temporary electric and water lines were installed to facilitate the work. An OSHA engineering survey was completed, notifications were submitted and all permits were obtained. Universal wastes (mercury switches, ballasts, fluorescent light tubes, etc.) were collected, characterized, containerized and the shipped offsite for proper recycling. Proper sidewalk bridges, barricades and fencing were installed to protect the surrounding public and structures. Scaffolding was also installed around the entire 5 story building, including the penthouse. The scaffolding consisted of double plank wood members with 2 ply debris netting.
Demolition and abatement means and methods were carefully evaluated based on several technical factors. Due to the close proximity of surrounding buildings (less than 40 feet) as well as public sidewalks, the building needed to be carefully taken down by hand demolition methods. In addition, there was asbestos flashing that went thru the walls as well asbestos containing waterproofing on the spandrel beams.
In order to evaluate the safest and most efficient means to complete the project, R. Baker & Son utilized the services of a licensed Professional Engineering firm to perform several engineering analysis tasks. The engineer evaluated the structural integrity of the building with respect to the proposed method of demolition as well as an evaluation of floor loading for various pieces of demolition equipment (skid steers and Brokk robotic demolition machines). Utilizing the engineering report as well as input from R. Baker's internal demolition and asbestos abatement experts, it was decided to perform the work in a phased approach starting from the top and working down. This top down phased approach was also in compliance with NYC variances and ensured that the building was stable throughout the process and did not require any temporary bracing or shoring.
The phased approach to the work was closely coordinated and allowed abatement and demolition to be conducted simultaneously. Working down from the roof, the demolition crews removed all loose items from the floors including desks, cabinets, partitions, etc. Once a floor was completed, the abatement crew would then enter and perform abatement of all non friable asbestos containing materials (ACM). The demolition crew would then come back to remove all sheetrock and drop ceiling so that the abatement personnel could come back in to properly abate the friable asbestos materials (mostly pipe insulation). The wrecking personnel then came back to remove all remaining items and expose the building beams which had ACM waterproofing which then needed to be abated. Finally, once all ACM was properly abated, the demolition work crews went back to the top of the building to manually demolish each floor.
Demolition crews utilized various hand tools to accomplish the demolition as well as specialized demolition equipment which included skid steers with demolition hammer and bucket attachments and Brokk 90 hydraulic breakers. Material was removed from the building via elevator shaft and debris shoots on the outside of the building.
As per NYC rules, Mechanical demolition commenced once the structure had been hand demolished to under two stories in height. R. baker & Son utilized several large 100,000 + hydraulic excavators with demolition attachments (hammers, grapples, pulverizers) to demolish the remaining portions of the main building as well as the two smaller 1 story buildings. Dozers, skid steers and front end loaders were also utilized to facilitate the demolition, sorting and loading efforts.
Once the building was demolished to grade, the slabs and foundations of the subfloor of the main building was also demolished. Care had to be taken to not demolish the sidewalls as these concrete structures needed to remain to provide support for surrounding soils (nearby structures or sidewalks could have been undermined if the soils gave way). Once the slab and foundation were removed, geotextile was then installed with a layer of pea gravel. The remaining portion of the subfloor was backfilled and compacted with clean fill materials back to original grade.
The one UST and one AST were also demolished and removed from the site. The tanks were properly drained and cleaned prior to excavation or removal. The tanks were then cut up on site utilizing an excavator with shear attachment and then sent offsite for scrap metal recycling.
The project was completed in 12 months without incident or injury.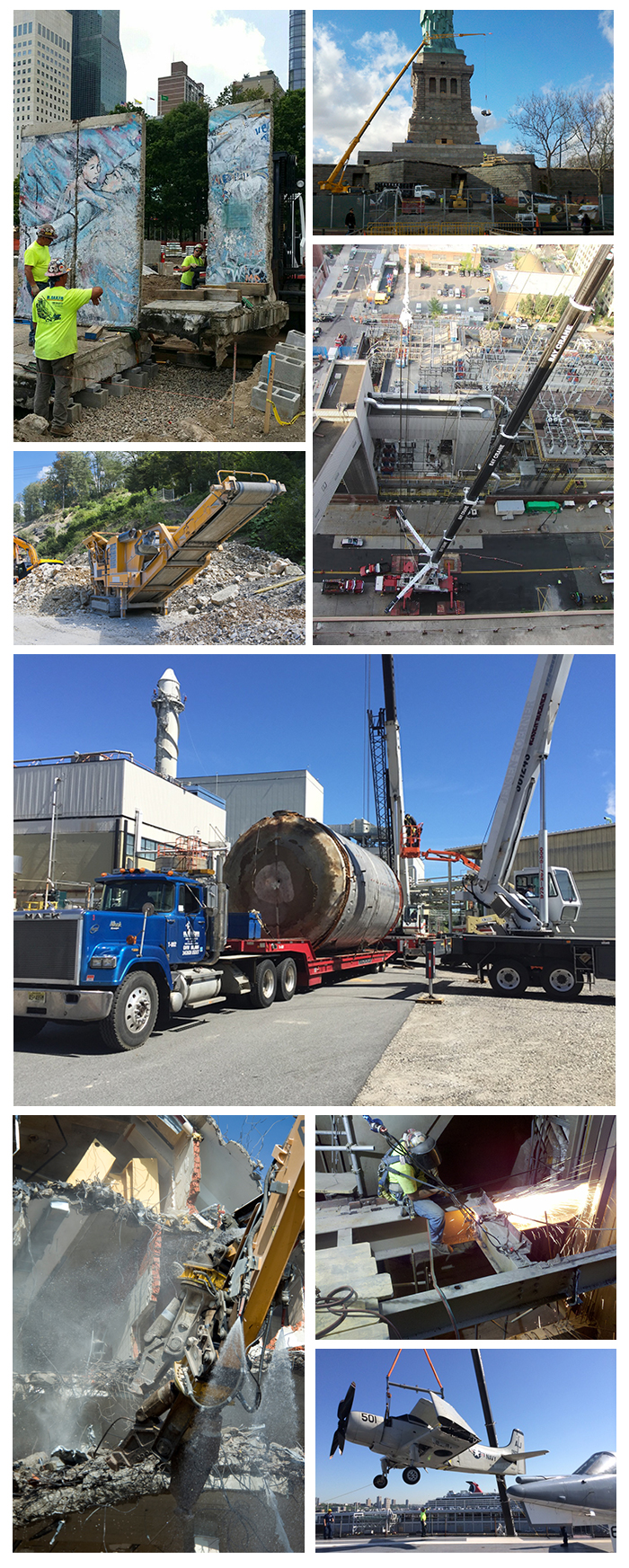 Decommissioning
Demolition Contractors in New York
Environmental Services
Investment Recovery
Plant Relocation
Selective Demolition
Trucking / Warehousing
Curtain Wall
Demolition Contractors in New Jersey
Dismantling
Interior Demolition
Plant and Machinery Movers
Rigging
Total Demolition
Wrecking / Razing