Rigging Fire Truck at 9/11 Memorial Ceremony
Rigging, Environmental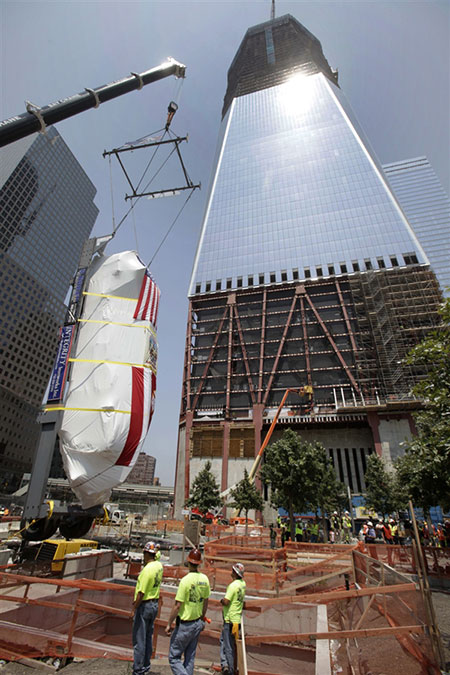 Recently, R. Baker & Son took part in a solemn ceremony at the National September 11 Memorial & Museum honoring the 12 firefighters from Ladder Company 3 who lost their lives in the World Trade Center attacks of Sept. 11, 2001. Working closely with the 9/11 Memorial and the NYC Fire Department, R. Baker & Son was tasked with rigging Ladder 3's battered fire truck into the 9/11 Memorial & Museum.
The challenge was in figuring out how to lower the 58,000 lb. fire truck vertically through a narrow opening into the museum 70 feet below ground, then returning it to its horizontal position using only one crane. The solution: a RAFT, or Rigging Apparatus for Fire Trucks, custom-designed by the R. Baker & Son team.
Step one in the process entailed securing the fire truck to the RAFT frame at the hangar where it was stored. Escorted by Ladder Company 3, the RAFT assembly was transported to Ground Zero. A 350-ton capacity Liebherr LR 1350 was used to offload the assembly, and, utilizing a set of tailing axles incorporated into the RAFT design, the fire truck was turned to a vertical position.
As Mayor Michael Bloomberg, Fire Commissioner Salvatore Cassano, firefighters, family and friends looked on, the shrouded, flag-draped fire truck was carefully maneuvered down into the exhibition space. Once again using the RAFT's tailing axles, the truck was moved back into a horizontal position, and a Versalift 2535 was used to move it to a temporary exhibition area.
R. Baker & Son also rigged several other artifacts into the museum, including Engine 21 and the iconic World Trade Center Cross. This cross-shaped section of steel beams was discovered in the rubble and erected at Ground Zero, where it stood for several years as a symbol of solace. In 2006, the cross was temporarily moved to nearby St. Peter's Church. The R. Baker & Son team had the honor of transporting the cross from St. Peter's to the 9/11 Museum after a ceremony attended by former Mayor Rudolph Giuliani and recovery workers.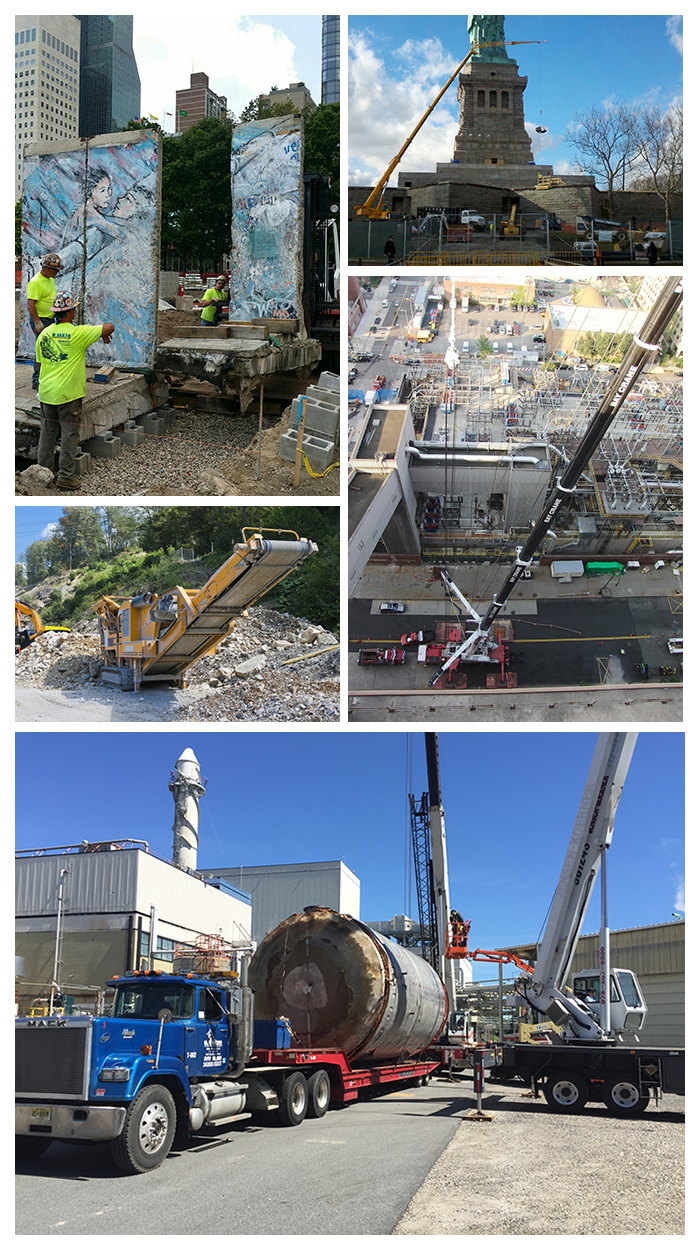 Decommissioning
Demolition Contractors in New York
Environmental Services
Investment Recovery
Plant Relocation
Selective Demolition
Trucking / Warehousing
Curtain Wall
Demolition Contractors in New Jersey
Dismantling
Interior Demolition
Plant and Machinery Movers
Rigging
Total Demolition
Wrecking / Razing