Turnkey Demolition Project
Total Demolition, Decommissioning, Environmental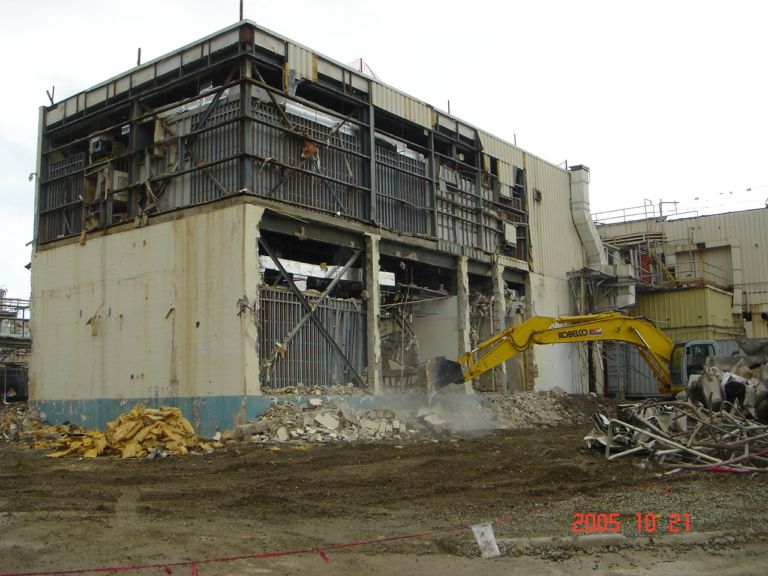 R. Baker & Son was challenged with a complete turnkey demolition project for three buildings in Barceloneta, Puerto Rico. The buildings, known as Factory 1, Factory 3, and Factory 5, were process buildings that required decommissioning and total demolition.
An MOP (Method of Procedure) and detailed schedule were provided, outlining how each building was to be shut down, decommissioned, and demolished. The decommissioning process also entailed R. Baker & Son working closely with the client to identify all hazardous materials and ensure safe removal. All piping was drained and flushed, and refrigerant was reclaimed. Electrical power and controls were shut down, locked out, and verified as safe for demolition. Process equipment was cleaned, triple-rinsed, wiped down, disconnected, and readied for removal. Air handler filters were removed, and exhaust filters were packaged and turned over to the client. A silt fence and caution tape were placed around building perimeters and clear signage was placed throughout the facilities identifying them as decommissioned and ready for demolition. A pre-demolition checklist walkthrough with the client was executed before demolition began. Each building was strategically and systematically demolished from the top down with a Komatsu excavator equipped with the following attachments; grapple, shear and universal processor. There were specific pieces of equipment that needed to come down with the building such as air handlers and penthouse mechanical room equipment that was slated for demolition. All metals, which included aluminum, steel, stainless steel, and copper, were segregated and stockpiled for recycling.
The footprint area of each building did not leave a lot of room for demolition equipment, container trucks, and debris. A safe project was our first priority, and it was important to minimize interruption to other operational buildings. Adjacent pipe racks, buildings, and plant systems needed to be safeguarded while the buildings were demolished. There were a few scheduled shutdowns that needed to occur in order to cut utilities such as steam, process water, electrical, and plant control systems, and these systems were identified with the customer early on and scheduled around process production.
Water misters were used for dust control as the building was dismantled. Debris was removed twice a day to keep the site clean and allow room for maneuvering the demo equipment. Once the buildings were completely removed, the foundations were broken apart and removed as well. Clean backfill was brought in and the site was graded to proper pitch and elevation, then hydroseeded to promote grass growth and stabilize the soil.
Before the project could be declared complete, all punch list items were completed and verified to the clients satisfaction. All permits were satisfied, and all documentation was provided in binders and approved by the commissioning team and facility owner.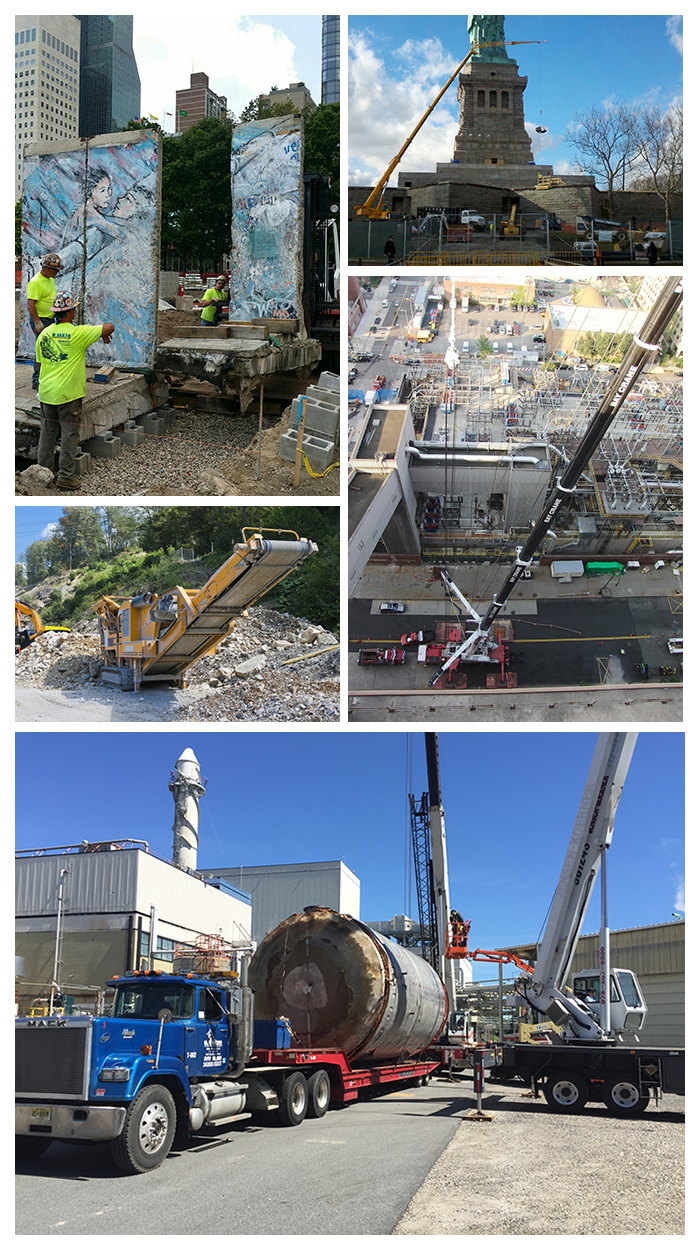 Decommissioning
Demolition Contractors in New York
Environmental Services
Investment Recovery
Plant Relocation
Selective Demolition
Trucking / Warehousing
Curtain Wall
Demolition Contractors in New Jersey
Dismantling
Interior Demolition
Plant and Machinery Movers
Rigging
Total Demolition
Wrecking / Razing