Fulton Fish Market Dismantling / Demolition Project NY
dismantling, demolition NYC, rigging, abatement
R. Baker & Son recently completed dismantling of the historic Fulton Fish Market on the East River waterfront in Lower Manhattan.
Fulton Fish Market first opened in 1822, and for the next 183 years it flourished as one of the most important wholesale fish markets in the U.S. The structure was built in 1939 as part of an effort to modernize the bustling market and provide safer, more sanitary methods of handling fish. In 2005, the building was vacated and left to deteriorate when the fish market was relocated to a new facility at Hunts Point in the Bronx. After plans for a 42-story residential tower on the site fell through and a campaign to preserve the old Fulton Fish Market building as a historic landmark failed, the city was finally spurred in 2018 to move forward with plans for demolition, with work being delayed until 2021 due to COVID-19.
The Project
The project called for removal of the three-story, 50,000 sq. ft. structure which stood on the base of Pier 17 on South Street. Due to the significantly deteriorated pier, all work was required to be performed utilizing primarily manual means and methods, with zero loading on the majority of the pier slab. Several creative project innovations were required to complete this task. For the transite panel abatement, a combination of swing stage scaffolding and manlifts stationed on floating barges were utilized to unbolt and lower panels into the building envelope.
Following abatement, R. Baker & Son mobilized a 100-ton conventional crane with barge, accompanied by a hopper barge, to perform the dismantling and removal of the superstructure and building debris. All interior upper levels were dismantled using a combination of small-track skid steer loaders and robotic breaking equipment. Debris was removed across upper building slabs to skip pans that were attached to the conventional barge-mounted crane and lowered into awaiting hopper barges. All crane activities had to be timed to occur when no ferries or water taxis were passing as their wakes could rock the barges and cause crane loads to swing. Upon completion of the dismantling, all structural steel required manual hand torch cutting and sizing for removal to awaiting barges in a similar manner to the construction debris. Work progressed on a bay-by-bay, floor-by-floor basis, with zero disturbance to the concrete pier slab.
The project, led by Nick Eglentowicz along with R. Baker & Son's in-house dismantling crew, was completed safely and on-schedule, leaving behind only the original Fulton Fish Market pier slab.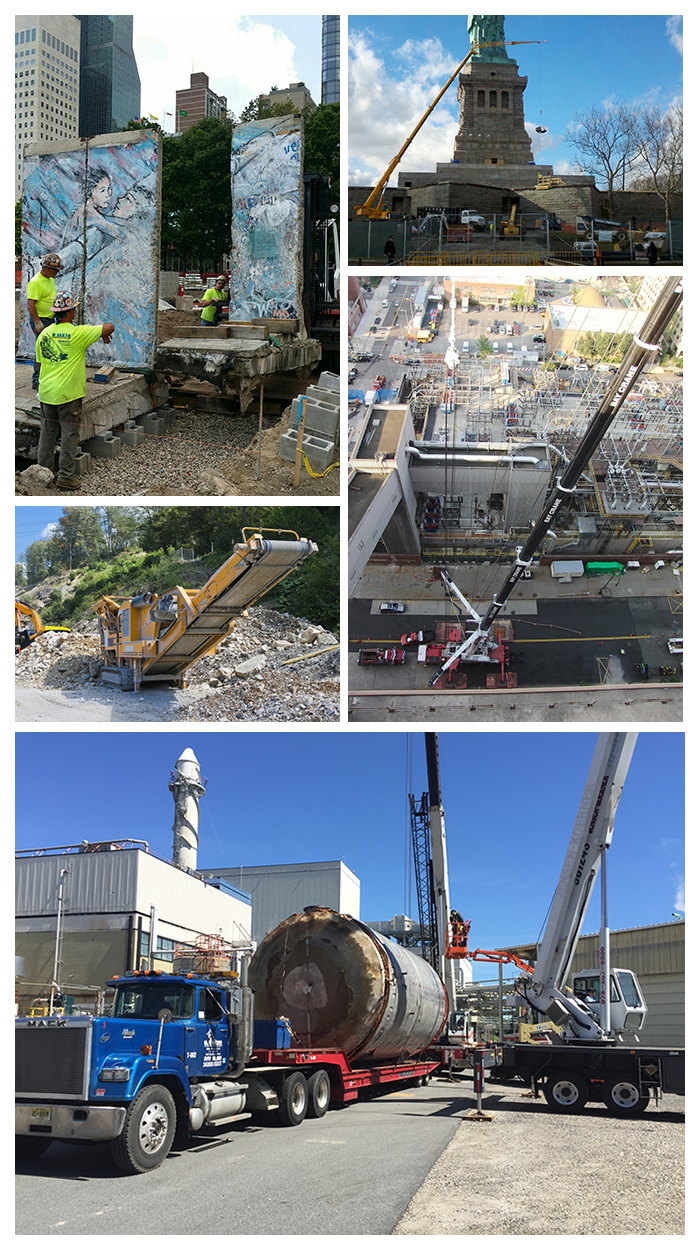 Decommissioning
Demolition Contractors in New York
Environmental Services
Investment Recovery
Plant Relocation
Selective Demolition
Trucking / Warehousing
Curtain Wall
Demolition Contractors in New Jersey
Dismantling
Interior Demolition
Plant and Machinery Movers
Rigging
Total Demolition
Wrecking / Razing