Demolition Contractor Services in New Jersey
R. Baker & Son All Industrial Services provides industrial and commercial demolition services throughout the State of New Jersey (NJ) as well as nationwide, Puerto Rico and Canada. We take great pride in our exceptional safety record, expert trained employees and our fleet of specialized demolition heavy equipment. We are also a Minority and Women-Owned Business Enterprise (M/WBE).
Our safe and expert demolition contractor services in New Jersey include:
Total Facility and Plant Demolition
Power Plant Demolition and Dismantling
Pharmaceutical Plant Demolition and Dismantling
Petro Chemical Dismantling and Demolition
Manufacturing Facility Demolition
Industrial and Commercial Building Demolition Services
Selective and Surgical Demolition of Structures
Concrete and Steel Silo Demolition
Water Tower Wrecking
Steel Tank Dismantling
Dismantling of All Types of Equipment and Structures
We Specialize in Controlled Implosion
All Types of Structures and Buildings Demolished in New Jersey
For more information on our demolition work, wrecking and dismantling contractor services in New Jersey, please contact us or to view more projects click here. To view our demolition contractors webpage for New York City, NYC click here.

Curtain Wall
Decommissioning
Demolition Contractors in New Jersey
Demolition Contractors in New York
Dismantling
Environmental Services
Interior Demolition
Investment Recovery
Plant and Machinery Movers
Plant Relocation
Rigging
Selective Demolition
Total Demolition
Trucking / Warehousing
Wrecking / Razing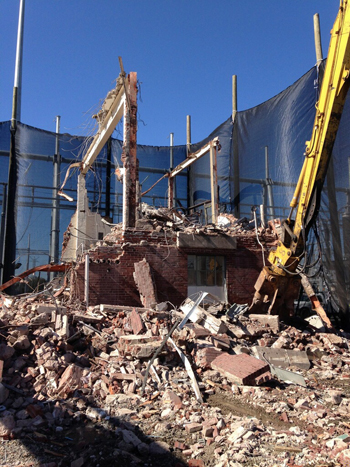 Demolishes Control House
Total Demolition, Excavation
R. Baker & Son was tasked with performing a total demolition project of a 3-story control house that was immediately adjacent to an active high-voltage electrical transmission station....