Wrecking / Razing
R.Baker & Son, a Minority and Women-Owned Business Enterprise (M/WBE), providing nationwide wrecking and demolition services.
With over 70 years of structural demolition, wrecking and dismantling experience, a highly-skilled and safe workforce, and a comprehensive range of modern equipment, R. Baker & Son is prepared to perform the demolition of one structure or an entire facility.
Our industrial and commercial demolition services include:
Total Plant and Facility Demolition and Wrecking
Selective Demolition and Dismantlement
Concrete or Steel Silo Demolition
Foundation, Slab and Footing Removal
Water Tower, Radio Tower Dismantlement
Nuclear Plant Decommissioning and Demolition
Technical and Standard Demolition Services
We perform each project with emphasis on safety, budget and client satisfaction.
We have completed demolition and wrecking projects throughout the US as well as Canada and Puerto Rico. See an example list of projects below.
Curtain Wall
Decommissioning
Demolition Contractors in New Jersey
Demolition Contractors in New York
Dismantling
Environmental Services
Interior Demolition
Investment Recovery
Plant and Machinery Movers
Plant Relocation
Rigging
Selective Demolition
Total Demolition
Trucking / Warehousing
Wrecking / Razing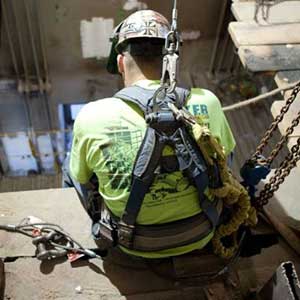 Chevron Oil Demolition Project
Demolition, Dismantling, Decommissioning
R. Baker & Son provided decommissioning, dismantling and demolition of tanks, pipe lines, Methane Plants, Power Plant and Amine plant at the Perth Amboy New Jersey (NJ) site. In addition,...