Mobile Crane Vs Fixed Crane Safety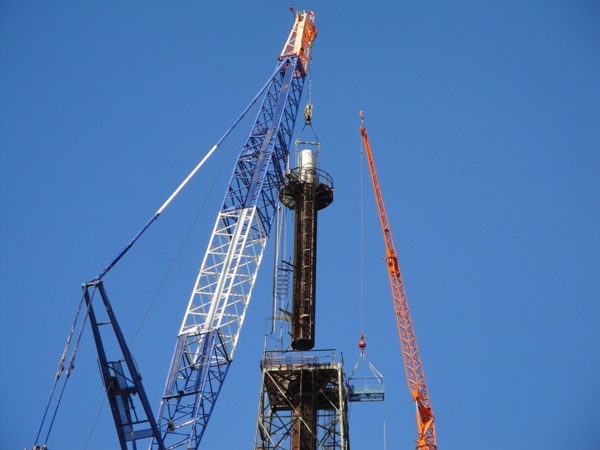 Cranes fall into one of two categories, either fixed or mobile.
Mobile cranes offer greater flexibility than fixed cranes, but present more safety hazards. R. Baker & Son crane operators, riggers, and other rigging personnel are expertly trained in mobile crane operation, and follow proper rigging procedures on every lift performed.
Crane and rigging teams must never exceed the load capacity of a mobile crane.
Load size and weight should be calculated, and load moment indicators can be used to prevent accidental overloads. All rigging equipment, including slings, chains and hooks, etc., must be inspected daily, and any rigging equipment showing damage must be immediately removed from service. Loads should be properly secured and moved over the approved pick plan. All boom movements should proceed smoothly, with no sudden stops or accelerations.
Crane Positioning
Prior to positioning a mobile crane, rigging teams should survey the area for electrical lines and other obstacles, and measures should be taken to maintain required clearances during rigging procedures. Soft, unlevel, or unstable ground can cause a crane to tip over, so outriggers should be used when necessary; crane should never be operated if the wheels lift off the ground.
When a crane is moving, the boom should be held in the direction of movement to maintain stability. Empty hooks should be lashed or secured to prevent swing. If there is a possibility of the boom falling backward, boomstops should be used. Mobile crane operators should sound an audible warning to warn riggers of pending movement, and rigging personnel should stay clear of the load, crane wheels, and outrigger wheels. A signal person should direct crane movement if the operator has a limited view.

R. Baker & Son's expert team includes master riggers, professional engineers, and skilled rigging tradesman capable of handling even the most challenging and complex rigging projects. We provide clients with a full selection of rigging services including rigging of heavy equipment and machinery, sensitive pharmaceutical and manufacturing equipment, rigging and dismantling of equipment and process lines, equipment salvage and removal, match marking, reinstallation, and millwrighting.
R. Baker & Son All Industrial Services
Phone: 732-222-3553
Fax: 732-450-031
Web: http://www.rbaker.com
Full News Archive
2023
2022
2021
2020
2019
2018
2017
2016
2015
2014
2013
2012
2011
2010
2009
2008