Demolition Safety: Structural Shoring and Bracing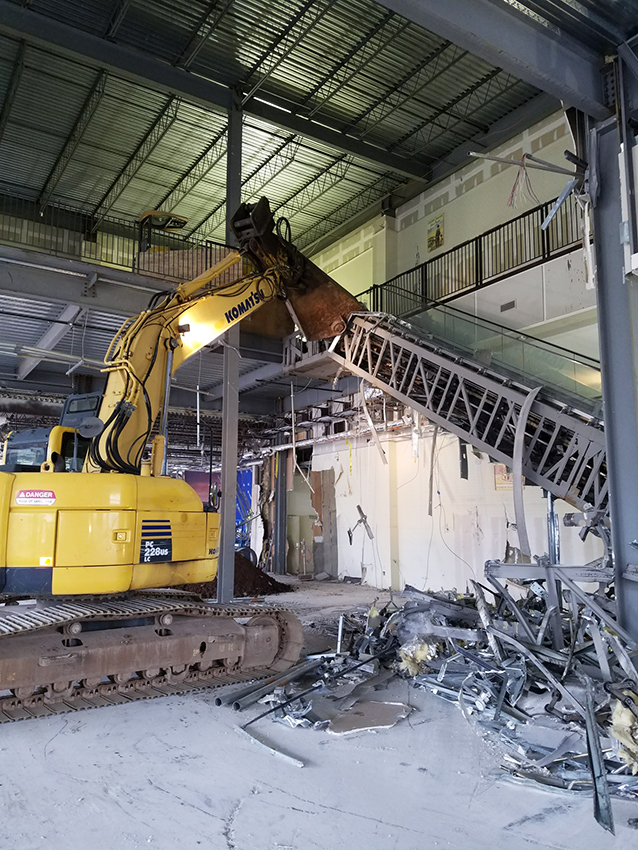 Demolition and dismantling require trained workers with a strong grasp of physics concepts like fulcrum, shear, balance, moment, pressure, electrical and mechanical energy, weight, density, pinch points, and leverage. Safety can be in jeopardy if workers don't have a strong understanding of physics and related cause-and-effect. Many demolition and dismantling projects occur mere feet from adjacent structures that must be protected, as well.
Accidents can happen in a split second without proper support during demolition of floors, walls, ceilings, roofs, and mechanical piping conduit and equipment. It is absolutely critical to provide appropriately-sized temporary supports, knee bracing, and shoring to prevent a break or collapse and avoid a domino effect. All must be properly fastened or tethered to prevent slipping or kicking out when weight is shifted. Floors are often reinforced from below to accommodate heavy equipment or live loads in structures under demolition.
OSHA provides guidelines for shoring and bracing, but does not take the place of a competent, experienced workers. R. Baker & Son strictly adheres to all demolition and dismantling regulations and all Baker team members are fully trained in shoring and bracing regulations, techniques and safety.
About R. Baker & Son All Industrial Services
R. Baker & Son All Industrial Services, a Service-Disabled Veteran-Owned Business (SDVOB) in business since 1935, is a premier specialized contractor operating in the United States, Canada and Puerto Rico, with over one hundred employees and an exemplary safety record (we have been directly involved in four sites that received VPP OSHA Safety Awards). R. Baker & Son is financially strong, with bonding capabilities over $10 million. Capabilities include industrial and commercial demolition, rigging, machinery- and plant-moving, dismantling, decommissioning, plant and equipment relocation, interior demolition, selective demolition, warehousing, wrecking and razing, millwright, plant reconfigurations, heavy rigging, salvage, environmental services, remediation, decontamination, abatement, and investment and asset recovery.
R. Baker & Son - All Industrial Services
190 Boundary Road
Marlboro, NJ 07746
https://rbaker.com/selective-demolition.php
Full News Archive
2023
2022
2021
2020
2019
2018
2017
2016
2015
2014
2013
2012
2011
2010
2009
2008