Intensive Plant Cleanup - Rigging, Disassembly, Reassembly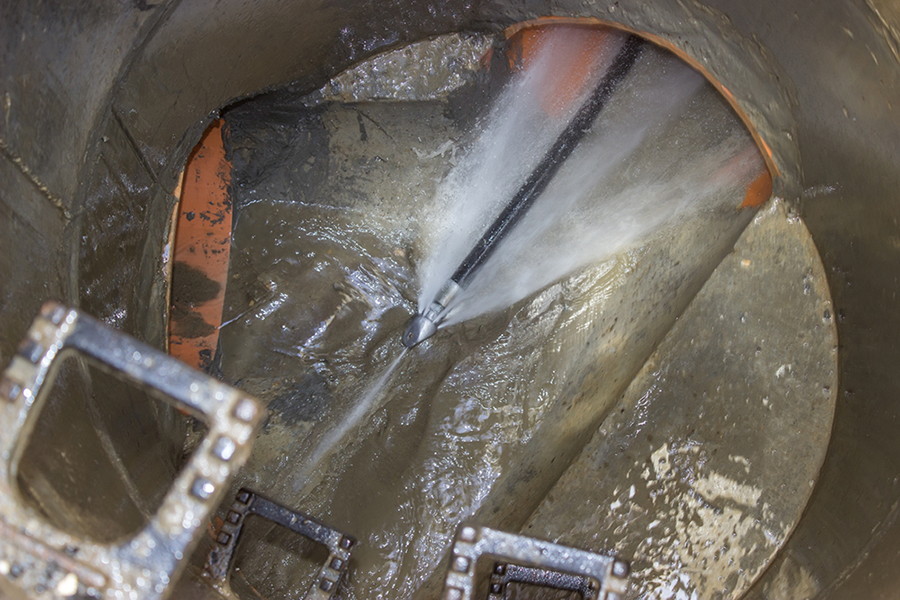 A manufacturer of paints, adhesives, and floor compounds located in upstate New York was referred to R. Baker & Son for a challenging project that needed to be done quickly and accurately. The new client requested having two crews of experienced riggers and millwrights on site for their intensive plant cleanup project that would include parts repair and replacement.
A local mechanical contractor was also hired to work alongside the Baker rigging team to round out the personnel and equipment needed to thoroughly clean and service various systems and replace several pumps, agitator parts, electrical gear, hoppers, and extruders. R. Baker & Son was tasked with cleaning two large underground clarification tanks, two pH waste neutralization tanks, and several 18,000-gallon storage tanks. We were also asked to disassemble and clean several pumps and piping systems along with hot water tanks and heat exchangers. Many of these mechanical systems hadn't been properly cleaned or serviced for some time.
Safety was the top priority, with confined space and lockout/tagout procedures strictly followed. Daily toolbox talks were conducted along with the mechanical contractor's team and the plant maintenance team to ensure that all workers at the site were on the same page as far as safety was concerned. We also worked closely with the facility's mechanical engineer, who had done a thorough job with up-front planning, obtaining all of the parts, hardware, and equipment that would be needed, and overall project scheduling.
R. Baker & Son came equipped with forklifts, chain hoists, Johnson bars, come-a-longs, and various other tools and machinery necessary to do the job. All in all, the project was completed alongside our mechanical partner over two six-day weeks. Once all of the equipment and processes were started up, two of our millwrights stayed an additional four days to ensure everything was running smoothly for production. In the end, the plant manager, engineer, and three senior maintenance techs were pleased with the outcome.
About R. Baker & Son All Industrial Services
R. Baker & Son All Industrial Services, a Minority and Women-Owned Business Enterprise (M/WBE), in business since 1935, is a premier specialized contractor operating in the United States, Canada, and Puerto Rico, with over one hundred employees and an exemplary safety record (we have been directly involved in six sites that received VPP OSHA Safety Awards). R. Baker & Son is financially strong, with bonding capabilities of over $20 million. Capabilities include industrial and commercial demolition, rigging, machinery- and plant-moving, dismantling, decommissioning, plant and equipment relocation, interior demolition, selective demolition, warehousing, wrecking and razing, millwright, plant reconfigurations, heavy rigging, salvage, environmental services, remediation, decontamination, abatement, and investment and asset recovery.
R. Baker & Son - All Industrial Services
190 Boundary Road
Marlboro, NJ 07746
732-222-3553
Full News Archive
2023
2022
2021
2020
2019
2018
2017
2016
2015
2014
2013
2012
2011
2010
2009
2008