Innovative Approach to Clean Air on Demo Project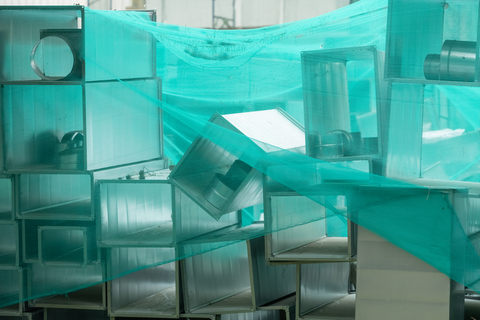 A good demolition plan often takes a holistic approach to achieve common project goals. The return on investment is almost always well worth it.
R. Baker & Son was challenged to perform a large interior demolition project on a 215,000 sq.-ft. pharmaceutical complex that had served its time. Built in 1985, the existing facility was two stories with a large mechanical penthouse. A new office/lab facility was planned for the building, so the old had to go to make way for the new. The job was almost a complete gut, leaving only exterior walls, floors and the roof.
Consolidating demolition debris and moving it out of the facility cleanly, safely and efficiently into recycling dumpsters was a constant effort. Several Bobcat compact excavators were used to collect and move debris to the loading dock area. As always, each area of the building had R. Baker & Son demolition and cleanup crews in constant radio communication to keep the project running smoothly and enhance worker safety.
R. Baker & Son is always looking for innovative ways to use what's available and incorporate them into our demolition and safety plans submitted to the owner, helping to achieve schedule goals and oftentimes beating them. A key part of this particular project was to utilize existing air handling units and exhaust fans to keep air changes moving throughout the facility and keeping dust under control during the demolition process. Equipment that would remain for ventilation, along with electrical power and controls, were color-coded to stay in operation. The majority of the ductwork was removed with the exception of what would be needed to supply air to one side of the building and exhaust to the other. This created cross-ventilation on both floors and the penthouse. MERV 8 filter fabric placed over the exhaust ductwork to clean the air was changed on a daily basis.
As demolition progressed and the Baker Team moved on their next task, other trades began framing and installing miscellaneous metal in the recently cleared areas. Several of the 100% outside air units were decommissioned and removed, along with associated ductwork from the penthouse, leaving only the exhaust fans running for the final phase of the demolition. Upon completion, the last six exhaust fans were removed along with associate manifolded duct, conduit, and motor control center, allowing final cleanup and punch list.
About R. Baker & Son All Industrial Services
R. Baker & Son All Industrial Services, a Service-Disabled Veteran-Owned Business (SDVOB) in business since 1935, is a premier specialized contractor operating in the United States, Canada and Puerto Rico, with over one hundred employees and an exemplary safety record (we have been directly involved in four sites that received VPP OSHA Safety Awards). R. Baker & Son is financially strong, with bonding capabilities over $10 million. Capabilities include industrial and commercial demolition, rigging, machinery- and plant-moving, dismantling, decommissioning, plant and equipment relocation, interior demolition, selective demolition, warehousing, wrecking and razing, millwright, plant reconfigurations, heavy rigging, salvage, environmental services, remediation, decontamination, abatement, and investment and asset recovery.
R. Baker & Son - All Industrial Services
190 Boundary Road
Marlboro, NJ 07746
732-222-3553
Full News Archive
2023
2022
2021
2020
2019
2018
2017
2016
2015
2014
2013
2012
2011
2010
2009
2008