Emergency Call Shows - Value of the Right Rigging Equipment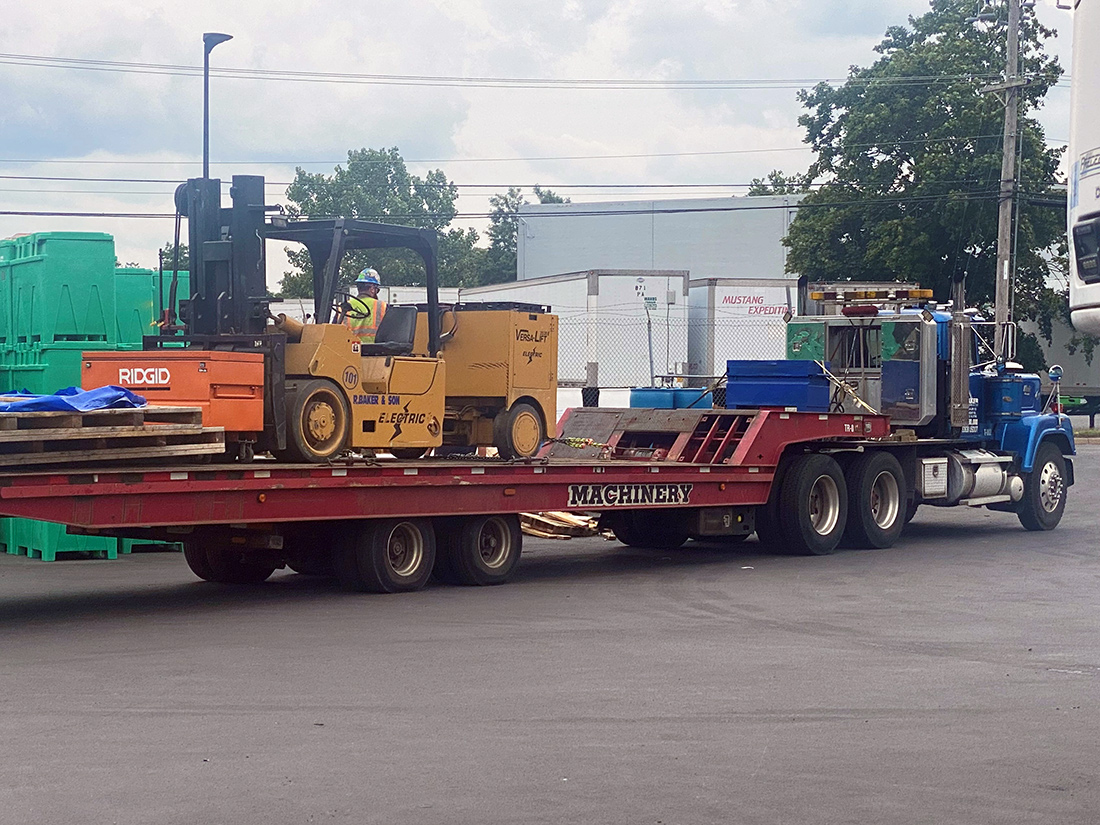 The importance of using the proper equipment for a rigging operation was illustrated recently when R. Baker & Son responded to a late afternoon emergency call from one of our regular customers.
The manufacturing facility had been awaiting delivery of a 20-foot-long, 8,200 lb. inclined screw conveyor they'd purchased from a surplus equipment vendor, but they were taken by surprise when it arrived on a lowboy flatbed instead of a trailer that could be offloaded directly onto their loading dock. Unloading the conveyor would require equipment the facility did not possess, but they decided to improvise with what they had. Bad idea.
Plant employees attempted to move the equipment from the truck using two forklifts that each had a maximum weight capacity of 3,000 lbs. After more than two hours of maneuvering, a broken fork, and a serious near-miss incident, they were finally able to slide the conveyor from the truck and onto the ground without damaging it.
This led to their next dilemma: how to move the conveyor into the building from the middle of the loading area where it was now blocking shipments and deliveries.
Finally, at around 3 p.m., they threw in the towel and reached out to R. Baker & Son for help. We dispatched two riggers equipped with slings, skates, Johnson bars, and a 15-ton forklift, to the facility. Within a short period of time, the conveyor was lifted directly onto four rigging skates positioned on the loading dock, clearing the lot for arriving tractor-trailers. We then moved the conveyor into place next to the stainless-steel tank it would be feeding and set it up for the client. All in all, our two-person rigging team spent just under two hours on site.
Fortunately for the client, no one was hurt during their misguided attempt to offload the equipment, but the incident was a major wake-up call. A safety review was held the following day, and the client assured us they will not be attempting any more dangerous ad-libbed rigging operations in the future.
About R. Baker & Son All Industrial Services
R. Baker & Son All Industrial Services, a Minority and Women-Owned Business Enterprise (M/WBE), in business since 1935, is a premier specialized contractor operating in the United States, Canada, and Puerto Rico, with over one hundred employees and an exemplary safety record (we have been directly involved in six sites that received VPP OSHA Safety Awards). R. Baker & Son is financially strong, with bonding capabilities of over $20 million. Capabilities include industrial and commercial demolition, rigging, machinery- and plant-moving, dismantling, decommissioning, plant and equipment relocation, interior demolition, selective demolition, warehousing, wrecking and razing, millwright, plant reconfigurations, heavy rigging, salvage, environmental services, remediation, decontamination, abatement, and investment and asset recovery.
R. Baker & Son - All Industrial Services
190 Boundary Road
Marlboro, NJ 07746
732-222-3553
Full News Archive
2023
2022
2021
2020
2019
2018
2017
2016
2015
2014
2013
2012
2011
2010
2009
2008