Helicopter Rigging An Effective Alternative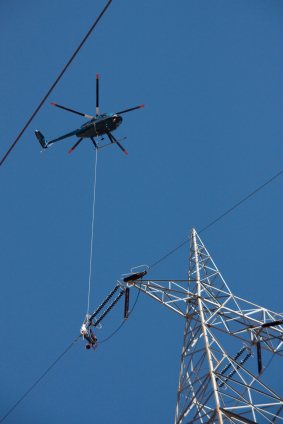 When the use of perimeter cranes is not feasible for moving heavy materials and equipment due to inaccessibility or economic concerns, helicopter rigging can be an effective alternative.
Aerial lifts require highly-trained and experienced personnel, thorough rigging and flights plans, and extremely careful preparation. It is critical to determine the load's precise weight, size, shape, and orientation. Risk assessments must be performed to identify hazards such as power lines, structures and cranes, and loose materials and structures in the landing or staging area. Flight permissions must be obtained from the FAA and other authorities.
Different helicopters are designed for different payload sizes, and the Erickson S-64 Aircrane, with a maximum hook weight of 25,000 lbs, has the largest capacity. The S-64 has a unique design that features an aft-facing pilot station, allowing full control of the aircraft while giving the aft pilot an unobstructed view and load placement to within millimeter tolerances. An anti-rotation rigging system prevents external loads from twisting or swinging from rotor wash. In addition to heavy-lift construction, uses for the S-64 include firefighting, disaster response, and timber harvesting.
R. Baker & Son has been involved in numerous helicopter rigging projects. With in-house master riggers, professional engineers, skilled rigging tradesmen, and state-of-the-art equipment, the Baker team is equipped to handle the most challenging or complex rigging project with utmost attention to safety.
R. Baker & Son - All Industrial Services
1 Globe Court
Red Bank, NJ 07701
732-222-3553
http://www.rbaker.com
Full News Archive
2023
2022
2021
2020
2019
2018
2017
2016
2015
2014
2013
2012
2011
2010
2009
2008