Seven Key Questions Clients Want to Know About Demolition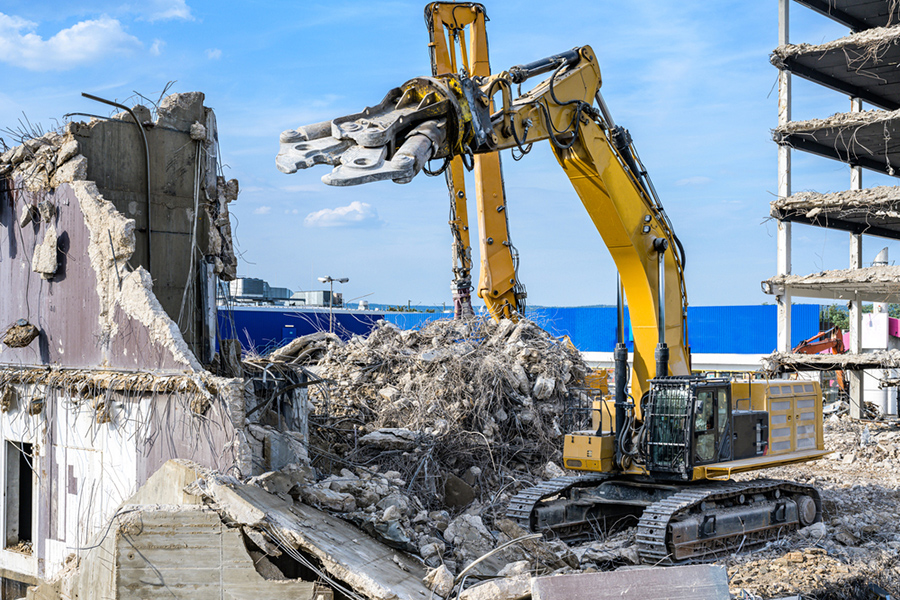 When it comes to demolition projects, ranging from total building teardowns to selective demolition and everything in between, clients are faced with the challenge of finding the right demolition contractor for the job.
Regardless of the project's scale or complexity, there are seven fundamental questions that clients consistently ask when vetting a demolition company. R. Baker & Son recognizes the importance of these inquiries and we are dedicated to providing comprehensive answers that instill confidence in our clients' decision-making process.
What is the demolition contractor's reputation and safety record? Reputation holds weight in the demolition industry, and clients want to know the company's standing in the market, years of experience, and most importantly, its safety record and practices. With a track record spanning over 85 years and four generations, we at R. Baker & Son take immense pride in our impeccable safety performance and standards.
Does the contractor have a good understanding of the scope of work? The scope of work on demolition projects is oftentimes ill-defined and lacking in detail. Clients want assurances that the contractor has a clear vision of the project requirements. We excel in defining scopes of work, meticulously identifying potential issues, and addressing them proactively.
What is the contractor's approach to the project and how will they mobilize? Methods and equipment can vary significantly among demolition contractors. The Baker Team meticulously plans mobilization and tailors our demolition methods to suit each project's specific requirements. Efficiency, precision, and minimal disruptions are the cornerstones of our approach.
Will materials and demolition debris be recovered for recycling or reuse? Environmental consciousness is at the forefront for many clients who want assurances that the demolition process is sustainable. R. Baker & Son emphasizes recycling and asset recovery initiatives to minimize waste and mitigate project costs.
How clean will the demolition contractor leave the project site? Clients have high expectations for maintaining a clean worksite throughout the demolition process and should ascertain that the contractor meets their cleanliness standards. We consistently exceed these expectations, keeping a clean safe project site and leaving no debris behind.
What are the costs? Budget constraints are a concern for every client, and transparent pricing is essential. R. Baker & Son outlines costs in detail so that clients understand what their project will entail and to ensure they will receive the expected value of their investment.
What makes the demolition contractor different from their competitors? Every client has unique values and expectations, and quality demolition contractors like R. Baker & Son can clearly convey the specific merits that position them as the ideal partner for a specific project.
These seven questions serve as part of the foundation of trust between R. Baker & Son and our clients. We welcome these inquiries, viewing them as opportunities to showcase our expertise, professionalism, and dedication to excellence in the demolition industry.
About R. Baker & Son All Industrial Services
R. Baker & Son All Industrial Services, a Minority and Women-Owned Business Enterprise (M/WBE), in business since 1935, is a premier specialized contractor operating in the United States, Canada, and Puerto Rico, with over one hundred employees and an exemplary safety record (we have been directly involved in six sites that received VPP OSHA Safety Awards). R. Baker & Son is financially strong, with bonding capabilities of over $20 million. Capabilities include industrial and commercial demolition, rigging, machinery- and plant-moving, dismantling, decommissioning, plant and equipment relocation, interior demolition, selective demolition, warehousing, wrecking and razing, millwright, plant reconfigurations, heavy rigging, salvage, environmental services, remediation, decontamination, abatement, and investment and asset recovery.
R. Baker & Son - All Industrial Services
190 Boundary Road
Marlboro, NJ 07746
732-222-3553
https://www.rbaker.com/demolition-contractors-new-jersey.php
Full News Archive
2023
2022
2021
2020
2019
2018
2017
2016
2015
2014
2013
2012
2011
2010
2009
2008