ENR Magazine Ranked R. Baker #1 Demolition/Wrecking Contractor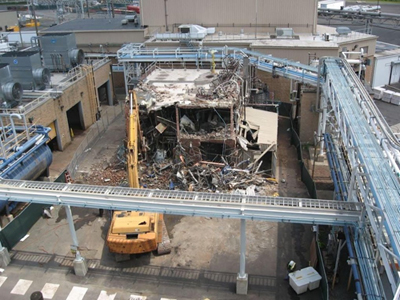 ENR Magazine has announced it's Rankings for 2012 and R. Baker and Son All Industrial Services, an expert rigging, demolition, machinery moving and equipment relocation contractor, was ranked by New York Construction Magazine as the #1 demolition and wrecking contractor in the Tri-State area of New Jersey, New York and Connecticut for 2012.
Each year, New York Construction Magazine develops a Top Specialty Contractor ranking for the New York Area which includes New Jersey, Connecticut, Upstate New York, New York City and the five boroughs. The rankings aim to identify the specialty contractors and subcontractors that are most active in the New York, New Jersey, and Connecticut markets.
For New York Construction Magazine's Top Specialty Contractor ranking for 2012, R. Baker & Son All Industrial Services ranked as follows:
Ranked 1st of all Demolition and Wrecking Contractors
Ranked 43rd of all Top NY Specialty Contractors
Ranked 10th of all Top NJ Speciality Contractors
Ranked 33rd of all Top Worldwide Speciality Contractors
Ranked 19th of all Top Other Specialty Contractors
The entire ranking list can be viewed at Top Specialty Contracting rankings 2012
This is R. Baker & Son All Industrial services fifth year in a row to be ranked on the Top Specialty Contractor ranking list. The company is very proud of this feat considering the tough economic climate and attributes its success to their commitment to safety and performance as well as exceeding their client's expectations.
About R. Baker & Son All Industrial Services
R. Baker & Son All Industrial Services is the premier specialized contractor in the United States, Canada and Puerto Rico. The Service-Disabled Veteran-Owned Small Businesses (SDVOSB) has been in business since 1935, has over 100 employees, an exemplary safety record (We have been directly involved in four (4) sites that received VPP OSHA Safety Awards) and is financially strong (bonding capabilities over $10 Million). Capabilities include industrial and commercial demolition, rigging, machinery & plant moving, dismantling, decommissioning, plant and equipment relocation, interior demolition, wrecking, selective demolition , demolition contractors in NJ and warehousing.
R. Baker & Son All Industrial Services
1 Globe Street
Red Bank, NJ 07701
Phone: 732-222-3553
Fax: 732-450-0311
Website: www.rbaker.com
Full News Archive
2023
2022
2021
2020
2019
2018
2017
2016
2015
2014
2013
2012
2011
2010
2009
2008