OSHA Safeguarding Workers for Over Forty Years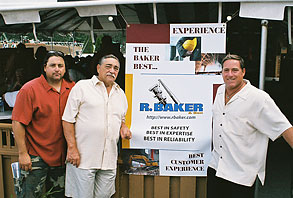 On December 29, 1970, President Nixon signed the Occupational Safety and Health Act into law, and OSHA was created. OSHA's mission is to prevent work-related injuries, illnesses, and fatalities through enforcement of their standards for workplace safety and health.

At first, OSHA standards were viewed as burdensome and regulators were met with considerable resistance. But with time, OSHA has greatly improved, and today most businesses are readily compliant. In the 42 years since OSHA was established, vast improvements have been made in workplace safety. While U.S. employment has doubled from 56 million workers to 115 million workers since 1971, workplace fatalities have been reduced by 62%, and occupational injuries and illnesses have dropped 40%.

At R. Baker & Son, workplace safety is our number one priority and we are 100% compliant with OSHA standards at all times. All of our personnel, from top management through field staff, are thoroughly and continuously trained in safety procedures and regulations. As a result, our safety performance continually far-exceeds requirements and industry averages.
About R. Baker & Son All Industrial Services

R. Baker & Son All Industrial Services is the premier specialized contractor in the United States, Canada and Puerto Rico. The Service-Disabled Veteran-Owned Small Businesses (SDVOSB) has been in business since 1935, has over 100 employees, an exemplary safety record (We have been directly involved in four (4) sites that received VPP OSHA Safety Awards) and is financially strong (bonding capabilities over $10 Million). Capabilities include industrial and commercial demolition, rigging, machinery & plant moving, dismantling, decommissioning, plant and equipment relocation, interior demolition, wrecking, selective demolition , demolition contractors in NJ and warehousing.

R. Baker & Son All Industrial Services
1 Globe Street
Red Bank, NJ 07701
Phone: 732-222-3553
Fax: 732-450-0311
Web: http://www.rbaker.com
Full News Archive
2023
2022
2021
2020
2019
2018
2017
2016
2015
2014
2013
2012
2011
2010
2009
2008