What are the Fundamentals of Rigging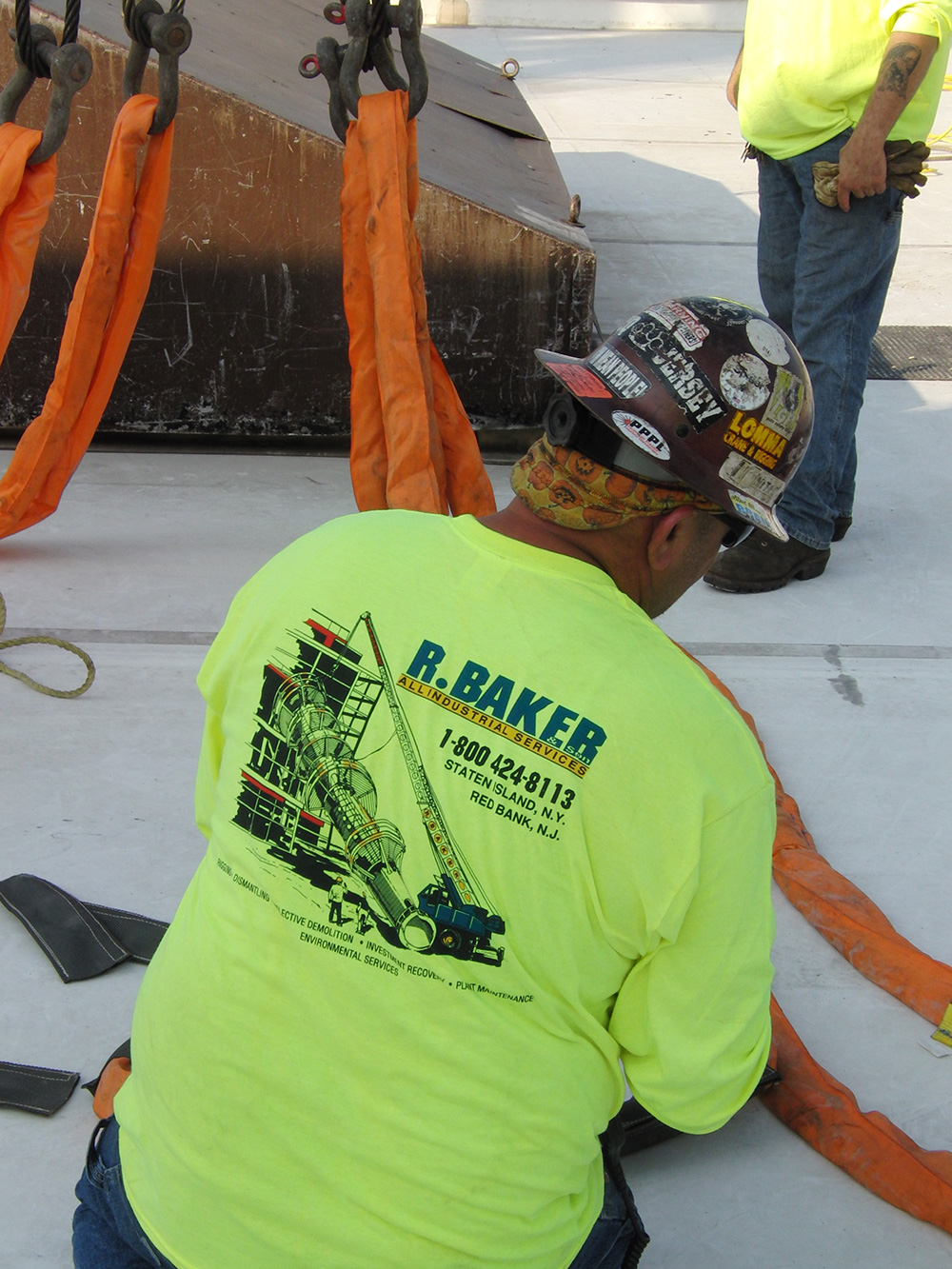 When it comes to crane rigging, there are a number of fundamental procedures that must be followed. R. Baker & Son is one of the nation's top rigging contractors, with extensive knowledge of the rigging industry spanning more than 80 years.
*Safety is priority #1. Crane operators and rigging crews must fully understand the abilities and limitations of the equipment and hardware, how to perform the operation, and must follow proper safety procedures to the letter.
*There are two DOE lift categories, ordinary and critical, and critical lifts have additional requirements that must be met. A lift is classified as critical if there is increased personal risk, or an accident could result in a significant impact to a project, facility or the environment, or if there are other unusual factors such as size, weight, or confined space. Perform critical picks before- or after-hours during daylight, if possible, and avoid lifting over buildings or sensitive equipment. Strict precautions and procedures must be followed when working near power lines.
*Inspect equipment daily. Slings, shackles, spreader bars, wire ropes, eyebolts, hooks, etc. should be fully checked before each use for damage such as kinks, broken wires, cracks, and corrosion. Equipment showing damage should be immediately removed from service.
*Rigging teams must accurately determine load weights and sizes before a lift can occur, and equipment and accessories should be selected according to precise calculations. The site should be surveyed for hazards, and barricades must be used to block access to areas within the swing radius of the crane. A pick plan should be developed and approved where required and whenever possible.
*Cranes must be positioned on ground that is sufficiently stable and large enough to accommodate the crane, outriggers, and the load. Rigging teams must take additional precautions when there are strong winds and lifts should be avoided beyond certain speeds. Most cranes are equipped with devices to determine wind velocity, ground stability, and load weight.
*Each rigging team must have a designated leader and signal person. Once riggers have properly placed and connected the appropriate lifting equipment, the operator will lift the load a few inches to make sure it is well secured and balanced and crane brake function is operating properly. The crane operator will then carefully lift and move the load over the planned route while avoiding sudden movements. Taglines allow riggers to control the load and prevent spinning while maintaining a safe distance. Once at its destination, riggers detach the load and the boom is returned to the pick point and readied for the next load to be picked and delivered.
R. Baker & Son's expert team of in-house master riggers, professional engineers, and skilled rigging tradesmen are equipped with state-of-the-art rigging equipment to handle any challenging industrial/commercial specialized rigging project. We handle heavy rigging of equipment and machinery, rigging delicate and sensitive pharmaceutical and manufacturing equipment, rigging, and dismantling equipment, and process lines, equipment salvage and removal, match marking, reinstallation, and millwrighting. For more information see OSHA's Crane Safety Quick Card.
About R. Baker & Son All Industrial Services
R. Baker & Son All Industrial Services, a Service-Disabled Veteran-Owned Business (SDVOB) in business since 1935, is a premier specialized contractor operating in the United States, Canada and Puerto Rico, with over one hundred employees and an exemplary safety record (we have been directly involved in four sites that received VPP OSHA Safety Awards). R. Baker & Son is financially strong, with bonding capabilities over $10 million. Capabilities include industrial and commercial demolition, rigging, machinery- and plant-moving, dismantling, decommissioning, plant and equipment relocation, interior demolition, selective demolition, warehousing, wrecking and razing, millwright, plant reconfigurations, heavy rigging, salvage, environmental services, remediation, decontamination, abatement, and investment and asset recovery.
R. Baker & Son - All Industrial Services
190 Boundary Road
Marlboro, NJ 07746
732-222-3553
Full News Archive
2023
2022
2021
2020
2019
2018
2017
2016
2015
2014
2013
2012
2011
2010
2009
2008