Qualified Rigging Contractor In Writing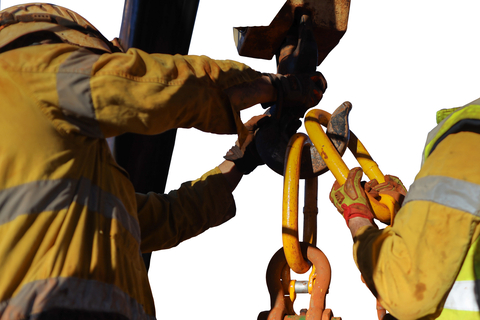 Crane rigging is a specialized activity that requires years of experience, but unfortunately it is not uncommon for contractors that lack rigging expertise and proper training to safely take on rigging responsibilities. There are two main reasons for this: to save money on the budget, and a lack of understanding of exactly what is involved in a rigging project.
Over our 86 years in business, R. Baker & Son has heard countless stories of equipment damaged during rigging by unqualified contractors. Common ones are racked and twisted air handlers, buckled chillers and cooling towers, and electrical gear supports that are twisted and can't be set properly, and oftentimes the damage is not repairable. Most equipment manufacturers provide rigging instructions for specific units and require qualified riggers to set and anchor equipment that will support startup and warranty.
More importantly, construction managers and general contractors should require subcontractors in writing to utilize qualified rigging professionals to ensure the safety of workers. Rigging problems and accidents can happen very quickly when it is performed by workers who lack training and experience. Making this a contractual requirement can prevent the vast majority of equipment damage and lost time and money and allows people to go home to their families safely at day's end.
About R. Baker & Son All Industrial Services
R. Baker & Son All Industrial Services, a Minority and Women-Owned Business Enterprise (M/WBE), in business since 1935, is a premier specialized contractor operating in the United States, Canada, and Puerto Rico, with over one hundred employees and an exemplary safety record (we have been directly involved in four sites that received VPP OSHA Safety Awards). R. Baker & Son is financially strong, with bonding capabilities of over $10 million. Capabilities include industrial and commercial demolition, rigging, machinery- and plant-moving, dismantling, decommissioning, plant and equipment relocation, interior demolition, selective demolition, warehousing, wrecking and razing, millwright, plant reconfigurations, heavy rigging, salvage, environmental services, remediation, decontamination, abatement, and investment and asset recovery.
R. Baker & Son - All Industrial Services
190 Boundary Road
Marlboro, NJ 07746
Full News Archive
2023
2022
2021
2020
2019
2018
2017
2016
2015
2014
2013
2012
2011
2010
2009
2008