Demolition of Uranium Facility, Once the Largest Building in U.S.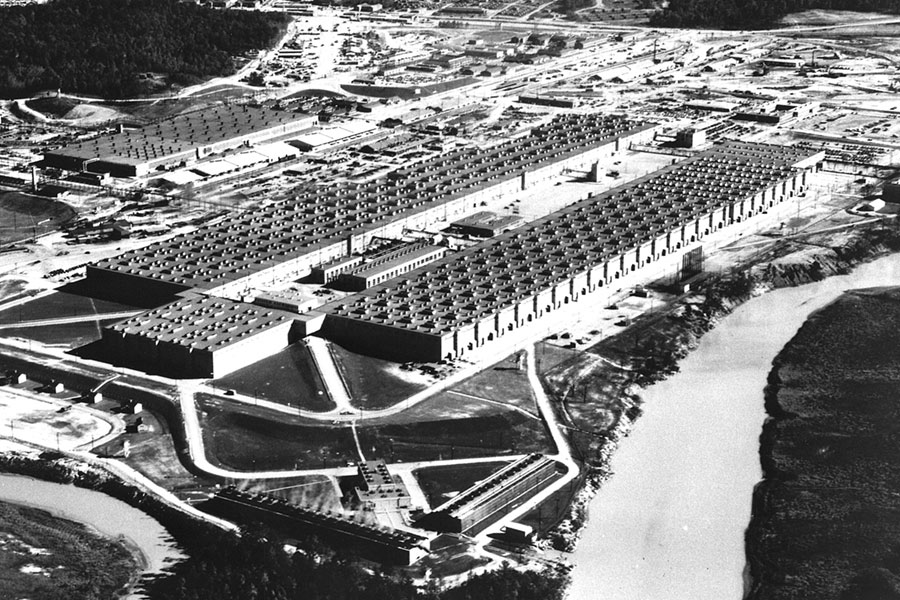 When the K-25 uranium enrichment facility was built in the mid-1940s as part of the Manhattan Project in Oak Ridge, Tennessee, it was the world's largest building under one roof. Seventy years later, demolition of the enormous forty-four acre building was completed after a five-year project.
K-25 was commissioned by the U.S. government during World War II as part of the top-secret race to build the world's first atomic bomb. Within the walls of the half-mile-long, 2 million square foot U-shaped facility, 12,000 workers produced, via gaseous diffusion, the enriched uranium that was used in atomic bombs dropped on Japan in 1945. Following the war, K-25 remained in operation producing enriched uranium for defense and commercial purposes until it was shut down in 1964. Other buildings at the Oak Ridge facility continued producing uranium until 1987.
Though demolition contractors began taking down the K-25 building in 2008, the complex project was ten years in the making. Due to the hazardous nature of the uranium operation, extensive preparation and remediation were required before demolition could commence. Among numerous Radioactive sludge was removed from a series of underground gunite tanks in 1999, and an onsite waste processing facility was built in 2003 to accept contaminated waste generated during site cleanup. Depleted uranium cylinders were shipped, more than 47,000 tons of metal was removed, several other buildings were demolished, and roads were constructed to accommodate vehicles removing project debris.
Demolition of K-25 was slated to last six years, from 2008 to 2014, but demolition contractors were able to complete the project one year ahead of schedule and approximately $300 million under its original $2.2 billion budget.
R. Baker & Son - All Industrial Services
1 Globe Court
Red Bank, NJ 07701
Phone: 732-222-3553
Web: http://www.rbaker.com
Full News Archive
2023
2022
2021
2020
2019
2018
2017
2016
2015
2014
2013
2012
2011
2010
2009
2008