R. Baker & Son Featured in Crane Hot Line Magazine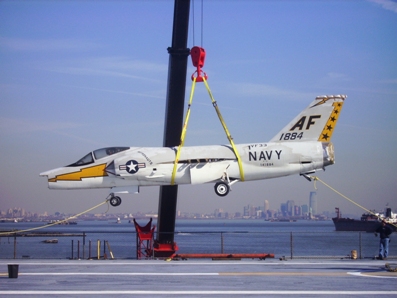 R. Baker & Son All Industrial Services was recently featured in Crane Hot Line magazine. Since 1997, Crane Hot Line has been the leading national marketplace for the crane industry. With a circulation of more than 25,000 manufacturers, dealers and contractors, Crane Hot Line is second to none as an outlet to buy and sell cranes, attachments, parts and crane services.
The story on R. Baker & Son is entitled "Welcome Home, Sailor - Veteran rigging contractor relocates vintage aircraft on USS Intrepid Museum". The article discuss how R. Baker & Son rigged and relocated numerous priceless and irreplaceable restored military aircraft for the USS Intrepid Sea, Air & Space Museum in New York. The complete article can be seen at R. Baker & Son Rigs and Relocates Military Aircraft
About R. Baker & Son All Industrial Services
R. Baker & Son All Industrial Services is the premier specialized contractor in the United States, Canada and Puerto Rico. The Service-Disabled Veteran-Owned Small Businesses (SDVOSB) has been in business since 1935, has over 100 employees, an exemplary safety record (We have been directly involved in four (4) sites that received VPP OSHA Safety Awards) and is financially strong (bonding capabilities over $10 Million). Capabilities include industrial and commercial demolition, rigging, machinery & plant moving, dismantling, decommissioning, plant and equipment relocation, interior demolition, wrecking, selective demolition , demolition contractors in NJ and warehousing.
Corporate Contact Information
R. Baker & Son All Industrial Services
1 Globe Street
Red Bank, NJ 07701
Phone: 732-222-3553
Fax: 732-450-0311
Website: www.rbaker.com
For more information visit our website or contact Damon Kozul, PE, CHMM at dkozul@rbaker.com
Full News Archive
2023
2022
2021
2020
2019
2018
2017
2016
2015
2014
2013
2012
2011
2010
2009
2008