Fortune 100 Selective Demolition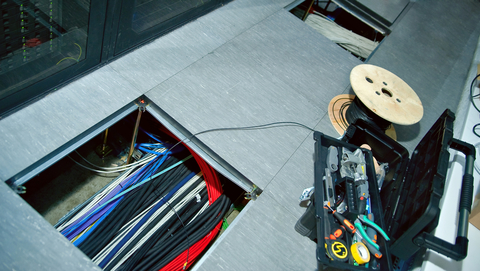 R. Baker & Son was recently challenged with performing selective demolition of a large building that housed a critical data center. The renovation project for a New Jersey-based Fortune 100 Company, which was to include new open-office spaces, conference rooms, huddle rooms, and pantry areas, came with the strict stipulation that there could be no interruption in operations during the demolition phase. With a main MDF room, multiple IDF closets, and two computer rooms located on different floors and nearly three decades worth of wire and cable running throughout the facility, part of the Baker Team's challenge was to earn the confidence of an anxious and exacting project engineer whose job it was to keep systems up and running while overseeing the project.
Multiple walk-throughs with the IT team and two technicians were conducted as demolition progressed to identify what was should be removed and, more importantly, what had to stay to support the operation. Walls and ceilings were opened up to reveal miles and miles of live single- and multi-mode fiber cable, copper communication wire, and CAT 5 data cable running through innerduct alongside dead wires and cables that had been disconnected years ago, requiring painstaking teamwork to figure out what was what. Active cable was neatly bundled and marked to stay with color-coded ribbons while old, dead cable was carefully marked and removed. Simultaneously, a team of electricians worked on regular power distribution, UPS power, and emergency power that ran throughout the facility, marking critical feeders and circuits with red spray paint while marking others slated for demolition with black.
This preliminary infrastructure phase culminated with two weekend shutdowns during which R. Baker & Son coordinated closely with electricians and the IT group to remove several electrical panels and swap electrical loads over to new panels and to run new wires and cables in floor openings. The shutdowns were successfully completed with scarcely a hitch, to the great delight and relief of the ever-worried project engineer. From there, the Baker Team moved on to the careful demolition of walls, ceilings and other structural elements in preparation for the renovation.
About R. Baker & Son All Industrial Services

R. Baker & Son All Industrial Services, a Service-Disabled Veteran-Owned Business (SDVOB) in business since 1935, is a premier specialized contractor operating in the United States, Canada and Puerto Rico, with over one hundred employees and an exemplary safety record (we have been directly involved in four sites that received VPP OSHA Safety Awards). R. Baker & Son is financially strong, with bonding capabilities over $10 million. Capabilities include industrial and commercial demolition, rigging, machinery- and plant-moving, dismantling, decommissioning, plant and equipment relocation, interior demolition, selective demolition, warehousing, wrecking and razing, millwright, plant reconfigurations, heavy rigging, salvage, environmental services, remediation, decontamination, abatement, and investment and asset recovery.
R. Baker & Son - All Industrial Services
190 Boundary Road
Marlboro, NJ 07746
732-222-3553
http://www.rbaker.com
Full News Archive
2023
2022
2021
2020
2019
2018
2017
2016
2015
2014
2013
2012
2011
2010
2009
2008