Construction Drones - Providing Eyes In The Sky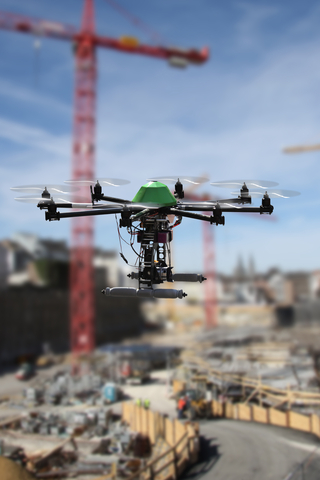 The popularity of drones has skyrocketed across the country, moving beyond the military to real estate, agriculture, and other industries, as well as recreational use. Drone technology is rapidly expanding into the demolition and construction field, and is expected to grow in leaps and bounds over the coming years.
Automated drones used on a construction site furnishes project managers with real-time aerial video and still images that allow better time and task management and lower project costs. Beyond providing clients' with a birds-eye view of their project's progress, drones collect and transmit information to specialized software that creates 3D jobsite models. This provides comprehensive insight into jobsite activities and changes on a daily basis. Distances, areas and even volumes can be accurately measured by drone software. Drones can also be used for up-close structure and equipment inspection on high rooftops and other hard-to-reach areas, for thermal imaging, to help identify worksite safety issues, and to highlight areas where work is not progressing as expected.
The use of drones in construction is in its early infancy, and developers are still working out questions of safety, privacy, and methods of use, but industry insiders agree that construction drones are here to stay. Drones are expected to be an everyday fixture on jobsites in the future, and new uses are being continually explored. For drone technology, as the saying goes, the sky is the limit.
R. Baker & Son - All Industrial Services
1 Globe Court
Red Bank, NJ 07701
732-222-3553
http://rbaker.com
Full News Archive
2023
2022
2021
2020
2019
2018
2017
2016
2015
2014
2013
2012
2011
2010
2009
2008