Safety is a Mindset at R. Baker & Son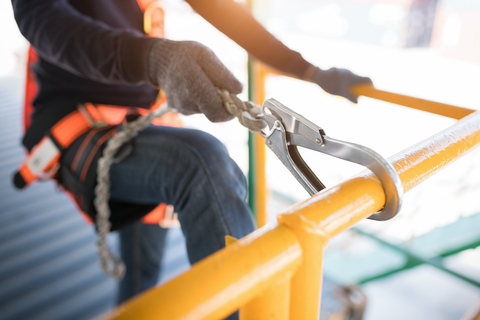 Every construction project is different, from site to site, in size and scope, and in the overall approach to safe work practices. Where many projects take safety very seriously, plenty of others are particularly lacking in that area.
You've seen it before and can usually spot it right away. The site is dirty and disorganized, the lighting is poor, and safety signage is lacking. Workers are openly breaking basic safety rules, wearing their PPE incorrectly, or not wearing it at all. The overall environment is lax, and even normally conscientious workers become careless in their behavior. This is how accidents occur.
On the flip side, a construction site with a high safety ethos is often immediately apparent, from marked parking areas, to clear signs on safety rules and procedures, to delineated muster areas, to mandatory onboard safety training. Where good safety is demonstrated, safe work habits naturally follow.
Workers in a safety-conscious environment, whether they're project managers or junior apprentices, become empowered to call out unsafe behavior when they see it. Fellow workers are likely to follow suit because they recognize that it's the right thing to do.
Safety is an ingrained part of the work culture here at R. Baker & Son, and we have a safety record that consistently exceeds industry standards to prove it. On projects where safety is emphasized and practiced, workers across multiple trades will emulate the good example set by others and overall project safety is improved. To learn more about our commitment to safety, please visit https://www.rbaker.com/safety.php

About R. Baker & Son All Industrial Services
R. Baker & Son All Industrial Services, a Minority and Women-Owned Business Enterprise (M/WBE), in business since 1935, is a premier specialized contractor operating in the United States, Canada, and Puerto Rico, with over one hundred employees and an exemplary safety record (we have been directly involved in six sites that received VPP OSHA Safety Awards). R. Baker & Son is financially strong, with bonding capabilities of over $20 million. Capabilities include industrial and commercial demolition, rigging, machinery- and plant-moving, dismantling, decommissioning, plant and equipment relocation, interior demolition, selective demolition, warehousing, wrecking and razing, millwright, plant reconfigurations, heavy rigging, salvage, environmental services, remediation, decontamination, abatement, and investment and asset recovery.
R. Baker & Son - All Industrial Services
190 Boundary Road
Marlboro, NJ 07746
732-222-3553
Full News Archive
2023
2022
2021
2020
2019
2018
2017
2016
2015
2014
2013
2012
2011
2010
2009
2008