Rigging the Great Pyramid of Giza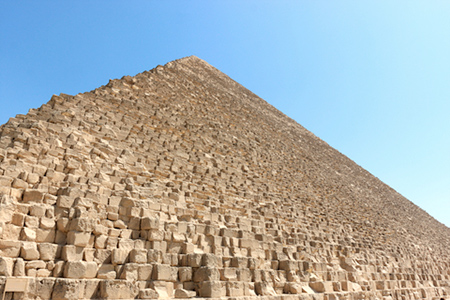 There are many hypotheses about the ancient Egyptian construction techniques and rigging of the massive stones that were used to build the pyramids. The most famous of the many Egyptian pyramids is the Great Pyramid of Giza, one of the Seven Wonders of the Ancient World. Built from 2584 to 2560 BC, it is the oldest and largest of the pyramids in Giza and is the only one of the Seven Wonders to remain largely intact.
The Great Pyramid is made up of approximately 2.3 million stone blocks weighing from 2.5 tons up to 80 tons, and it is believed that it took well over 300 thousand men to construct it. The cutting, moving and rigging of the large stones is still somewhat of a mystery, but there are many functional possibilities. One of the most solid theories points to the use of ramps and a complex roller-track and pulley system. Rigging consisting of a large lever and counterweight were attached to a cedar sled, much like a crane. The sand in front of the sled was wetted, but not soaked, to support the heavy sled and help it slide from quarry to pyramid. A ramp at seven percent incline was constructed to move the smaller and mid-sized stones into and through the pyramid. Like modern-day riggers, workers raised the larger blocks through the large gallery using a series of trollies, rollers, pulleys and counterweights. This ancient rigging system allowed a few dozen men to do the work of hundreds.
Egyptologists originally believed that slave labor was used to build the Great Pyramid, but recent archaeological finds indicate that it was constructed by well-fed, skilled workers who were paid for their exacting work. The result was an astonishing structure that, at 481 feet, stood as the tallest man-made structure for over 3,800 years. What these ancient riggers, masons and engineers accomplished forty-five centuries ago is still a wonder in the 21st century.
About R. Baker & Son All Industrial Services

R. Baker & Son All Industrial Services, a Service-Disabled Veteran-Owned Small Business (SDVOSB) in business since 1935, is a premier specialized contractor operating in the United States, Canada and Puerto Rico, with over one hundred employees and an exemplary safety record (we have been directly involved in four sites that received VPP OSHA Safety Awards). R. Baker & Son is financially strong, with bonding capabilities over $10 million. Capabilities include industrial and commercial demolition, rigging, machinery- and plant-moving, dismantling, decommissioning, plant and equipment relocation, interior demolition, selective demolition, warehousing, wrecking and razing, millwright, plant reconfigurations, heavy rigging, salvage, environmental services, remediation, decontamination, abatement, and investment and asset recovery.
R. Baker & Son - All Industrial Services
1 Globe Court
Red Bank, NJ 07701
http://www.rbaker.com
Full News Archive
2023
2022
2021
2020
2019
2018
2017
2016
2015
2014
2013
2012
2011
2010
2009
2008