Plant Machinery Updates and Replacements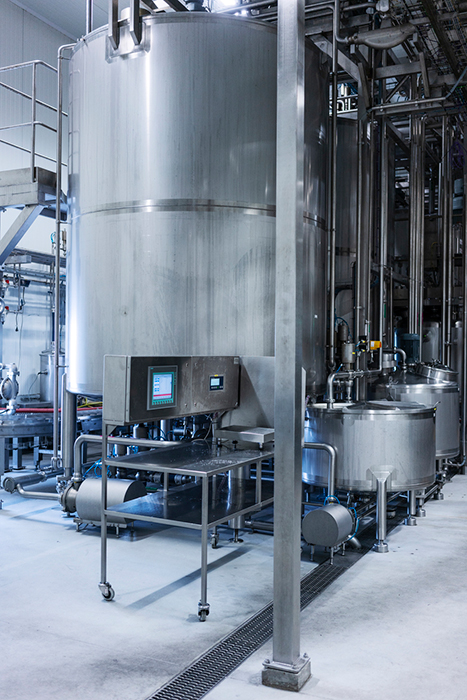 An equipment manufacturer that had worked closely with R. Baker & Son in the past called us regarding a bioprocess facility requiring several key changes to eight large holding tank agitators. Each agitator had twelve 28" blades that needed to be replaced with longer 42" blades. Motors for each tank were to be replaced with larger-HP motors, and three vertical baffles extending the full height of each tank required removal. To accomplish these tasks, Baker crew members accessed each of the 14' x 16' tanks through a 36" manway and followed all confined space safety procedures.
The facility owner also tapped R. Baker & Son to assist with a number of long-overdue plant maintenance items including rigging in four 500-lb. positive displacement pumps to replace existing pumps located in the center of a tank farm where a crane couldn't be used and various piping blocked access. Our team of riggers and millwrights installed a temporary gantry to beam to accommodate the load weight and used a combination of chain hoists, slings, and come-alongs to maneuver the pumps up and over the pipes and into position.
Another task for R. Baker & Son was replacing gasketing on several large hoppers that were leaking. The badly-needed materials had just arrived on site, and the facility didn't have the personnel or equipment necessary to replace the gaskets in a timely manner. Our crew members relocated the gantry beam used in the tank farm and used them to hoist the hoppers so that the gasketing could be replaced.
Lastly, we installed 260 ft. of heavy industrial shelving that was 4 ft. deep and 12 ft. high and tied it into the structure. We also installed bollards to protect the area from forklift traffic. The plant manager was pleased with the outcome of all of our work and has future plans to call upon R. Baker & Son to assist in future plant PM.
About R. Baker & Son All Industrial Services
R. Baker & Son All Industrial Services, a Minority and Women-Owned Business Enterprise (M/WBE), in business since 1935, is a premier specialized contractor operating in the United States, Canada, and Puerto Rico, with over one hundred employees and an exemplary safety record (we have been directly involved in six sites that received VPP OSHA Safety Awards). R. Baker & Son is financially strong, with bonding capabilities of over $20 million. Capabilities include industrial and commercial demolition, rigging, machinery- and plant-moving, dismantling, decommissioning, plant and equipment relocation, interior demolition, selective demolition, warehousing, wrecking and razing, millwright, plant reconfigurations, heavy rigging, salvage, environmental services, remediation, decontamination, abatement, and investment and asset recovery.
R. Baker & Son - All Industrial Services
190 Boundary Road
Marlboro, NJ 07746
732-222-3553
Full News Archive
2023
2022
2021
2020
2019
2018
2017
2016
2015
2014
2013
2012
2011
2010
2009
2008