Emergency Warehouse Demolition Brooklyn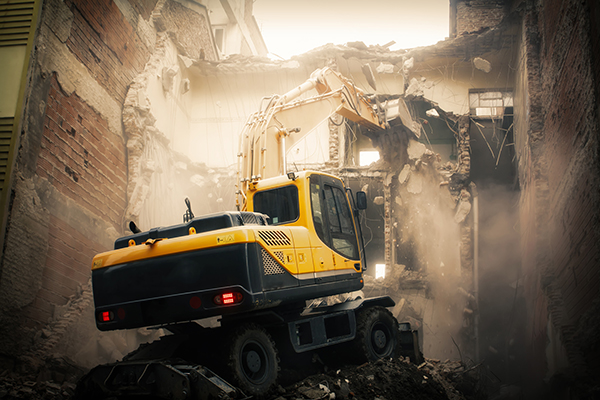 The owner of a 25,000 square foot Brooklyn warehouse was in a serious bind. A wall and part of the roof of the recently-vacated building had unexpectedly collapsed, and the remaining walls appeared ready to cave in as well. It was just before 5:00 p.m. on a Friday, and the warehouse owner was hard pressed to find a demolition company to come out in an emergency. He pulled out his cell phone, searched "demolition contractor NYC 24/7 emergency service" and dialed the first company that came up in the results: R. Baker & Son.
As luck would have it that day, a Baker demolition crew was wrapping up for the day at a lower Manhattan jobsite when the call came in. They were dispatched to the building collapse and arrived just before 6:00, less than one hour since the emergency call was received.
Within two hours, the crew cordoned off the area with temporary fencing and worked to identify and isolate the building's utilities. Gas lines were turned off and the electrical lateral was disconnected to eliminate any public danger. Walls were shored up with timbers to prevent further collapse before they departed for the night.
We returned early the next morning to perform a site assessment and a task hazard analysis while fresh R. Baker demolition team members arrived with various equipment that included an excavator, two Bobcats, a front-end loader, and a lull. Soon after, walls began coming down. To the surprise and relief of the warehouse owner, demolition was safely completed, all debris had been cleared, and permanent fencing had been installed just five days after the initial emergency call came in.
About R. Baker & Son All Industrial Services
R. Baker & Son All Industrial Services, a Service-Disabled Veteran-Owned Business (SDVOB) in business since 1935, is a premier specialized contractor operating in the United States, Canada and Puerto Rico, with over one hundred employees and an exemplary safety record (we have been directly involved in four sites that received VPP OSHA Safety Awards). R. Baker & Son is financially strong, with bonding capabilities over $10 million. Capabilities include industrial and commercial demolition, rigging, machinery- and plant-moving, dismantling, decommissioning, plant and equipment relocation, interior demolition, selective demolition, warehousing, wrecking and razing, millwright, plant reconfigurations, heavy rigging, salvage, environmental services, remediation, decontamination, abatement, and investment and asset recovery.
R. Baker & Son - All Industrial Services
190 Boundary Road
Marlboro, NJ 07746
732-222-3553
http://rbaker.com/index.php
Full News Archive
2023
2022
2021
2020
2019
2018
2017
2016
2015
2014
2013
2012
2011
2010
2009
2008