Remote Control Demolition Machines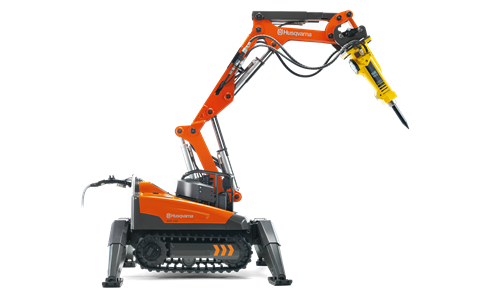 There is something "cool" about demolition, and a certain satisfaction can be gained by wrecking and taking things apart. Demolition oftentimes symbolizes the beginning of something new, like renovations or new construction. Demolition represents progress, and demolition technology is always progressing as well.
Robotic demolition machines provide demolition contractors with the ability to safely venture into confined or hazardous spaces and other hard-to-access areas. These remotely-controlled machines can be fitted with a wide variety of demolition attachments like breakers, crushers, buckets, grapples, scabblers, and drills. They are emission-free and are ideal for interior demolition. For those of us who grew up playing with RC cars and video games (or still do), using a joystick-controlled robot to demolish a cinder block wall is, well, just plain fun.
Robotic demolition equipment manufacturers like Brokk, Husqvarna, and Volvo upgrade their offerings each year. Demolition contractors interested in buying or leasing these machines can view them at tradeshows, manufacturer websites, and online videos. There are also many online forums where users offer opinions and critiques on equipment performance.
R. Baker & Son - All Industrial Services
1 Globe Court
Red Bank, NJ 07701
Phone: 732-222-3553
Web: http://www.rbaker.com

Photo courtesy of Husqvarna.
Full News Archive
2023
2022
2021
2020
2019
2018
2017
2016
2015
2014
2013
2012
2011
2010
2009
2008