Safety Planning for Rigging and Demolition Projects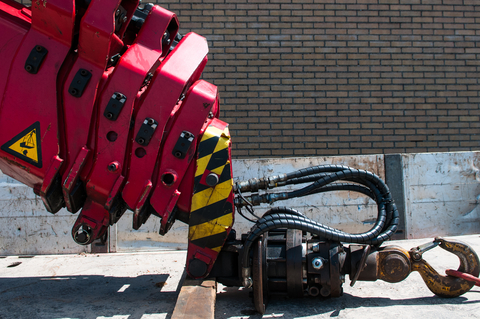 When performing a rigging or demolition project, falling materials, fall hazards, unstable structures, and a variety of other hazards can pose serious risks to both workers and the general public, so it is important that the worksite is properly secured before work can begin. R. Baker & Son develops a Site Specific Safety Plan (SSSP), takes numerous safety measures and follows all regulations to prevent accidents and injuries on every rigging and demolition project.
To prevent people from entering a worksite, whether inadvertently or purposely, a fence should be erected, making sure that emergency vehicles can easily gain access if necessary. Danger signs should be posted around the perimeter warning that demolition or rigging work is in progress. The worksite should be inspected for areas that pose a risk of falling. Floor and wall openings should be boarded or otherwise covered and steps should be taken to prevent accidental removal of the materials. Walkways and stairs should be inspected for safety and proper illumination.
Prior to demolition work, an engineering survey must be conducted per OSHA requirement. Structures where demolition or rigging crews will be working should be checked and monitored for weak areas and braced where necessary. Before positioning a crane, ensure that the ground is stable and that there is adequate space to accommodate the crane, outriggers, and the load. Workers should be properly fitted with personal protective equipment such as hardhats, eye protection, gloves, and fall protection. Set up chutes and containers for debris disposal. Turn off utilities prior to commencing demolition or rigging work, and notify utility companies of the project.
Emergency medical information listing nearby hospitals, clinics and doctors, as well telephone numbers for emergency services, should be posted before commencing demolition or rigging work. Type III first aid kits must be made readily available. Minimize fire risks and create a fire plan, and post evacuation routes.
About R. Baker & Son All Industrial Services
R. Baker & Son All Industrial Services, a Service-Disabled Veteran-Owned Business (SDVOB) in business since 1935, is a premier specialized contractor operating in the United States, Canada and Puerto Rico, with over one hundred employees and an exemplary safety record (we have been directly involved in four sites that received VPP OSHA Safety Awards). R. Baker & Son is financially strong, with bonding capabilities over $10 million. Capabilities include industrial and commercial demolition, rigging, machinery- and plant-moving, dismantling, decommissioning, plant and equipment relocation, interior demolition, selective demolition, warehousing, wrecking and razing, millwright, plant reconfigurations, heavy rigging, salvage, environmental services, remediation, decontamination, abatement, and investment and asset recovery.
R. Baker & Son - All Industrial Services
190 Boundary Road
Marlboro, NJ 07746
732-222-3553
Full News Archive
2023
2022
2021
2020
2019
2018
2017
2016
2015
2014
2013
2012
2011
2010
2009
2008