Rigging Process Equipment Narrow Shaft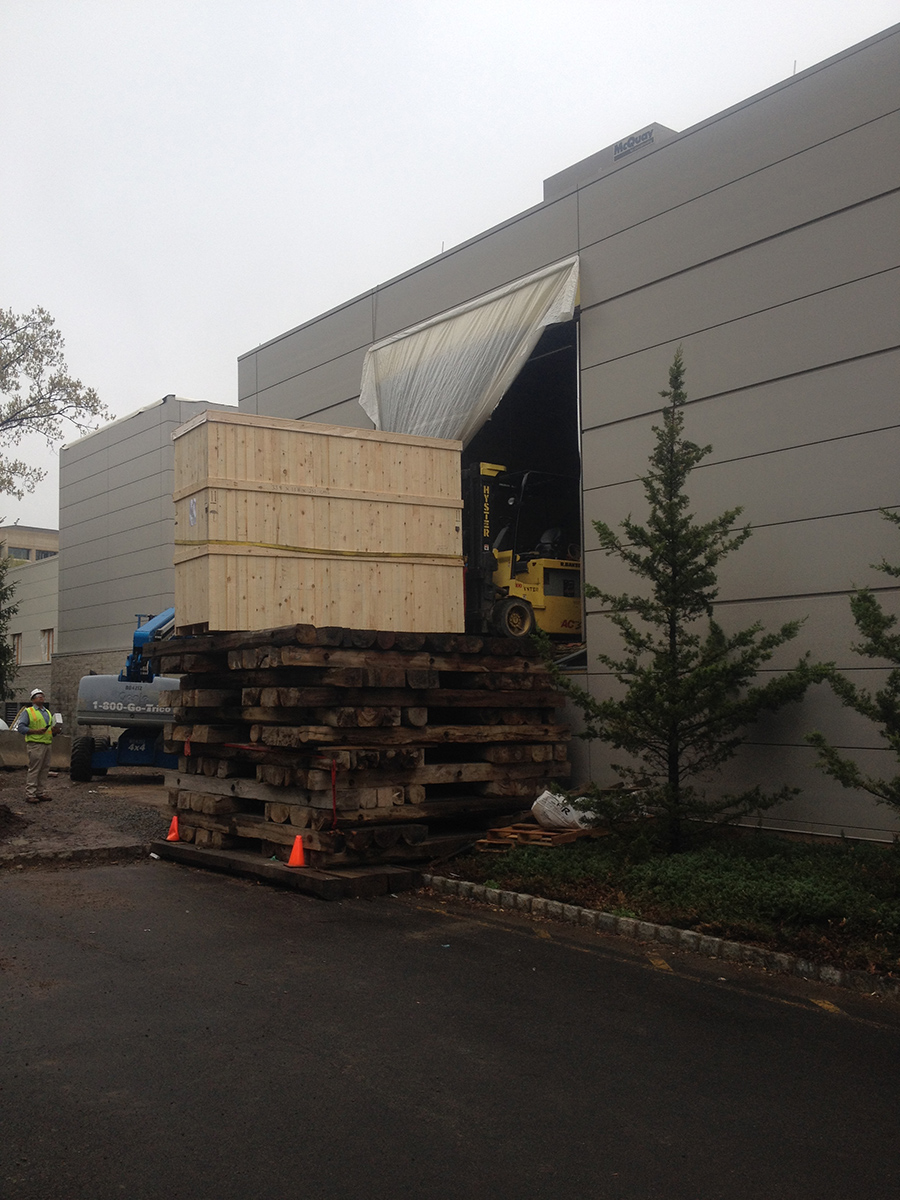 An old R&D facility in Northern New Jersey needed to renovate an area to make way for an important new expansion. Because real estate for needed process equipment was limited, the only area available was interstitial space located one floor below, but the equipment would need to be rigged into the space through an existing 8' x 8' x 17' utility shaft congested with piping. The project team challenged R. Baker & Son and the mechanical contractor to put their heads together and come up with a plan.
Equipment that would need to be rigged through the narrow shaft included an osmosis system, a clean steam generator, condensate tanks, pumps, and heat exchangers, as well as several motor control centers, small air handling units, and fan coil units. Since removing all of the conduit and piping was not feasible, the Baker rigging team and the mechanical contractor determined that two 6-inch chilled water lines and two 4-inch hot water reheat lines, along with about a dozen electrical and control lines, would need to be removed in order to clear enough vertical space to rig the equipment to the area below. Much of the equipment was shipped in sections that would be rigged down the narrow shaft and assembled in the interstitial space.
Two I-beams were installed at the top of the shaft, and 1.5-ton chain hoists were connected to each. Using block-and-tackle, slings, and a spreader bar, the Baker rigging team carefully lowered each piece through the maze of remaining piping and supports using tag lines, often with only an inch or two of room to spare. Once at the bottom, each piece of equipment was set on skates, rolled to its predetermined location as indicated on the BIM model, assembled, and connected under the supervision of a vendor representative. Chilled water, hot water, and electrical lines were reinstalled in the shaft to bring existing systems back online. The entire project was successfully executed between Christmas and New Year's Day, when the facility had minimal operations.
About R. Baker & Son All Industrial Services
R. Baker & Son All Industrial Services, a Service-Disabled Veteran-Owned Business (SDVOB) in business since 1935, is a premier specialized contractor operating in the United States, Canada and Puerto Rico, with over one hundred employees and an exemplary safety record (we have been directly involved in four sites that received VPP OSHA Safety Awards). R. Baker & Son is financially strong, with bonding capabilities over $10 million. Capabilities include industrial and commercial demolition, rigging, machinery- and plant-moving, dismantling, decommissioning, plant and equipment relocation, interior demolition, selective demolition, warehousing, wrecking and razing, millwright, plant reconfigurations, heavy rigging, salvage, environmental services, remediation, decontamination, abatement, and investment and asset recovery.
R. Baker & Son - All Industrial Services
190 Boundary Road
Marlboro, NJ 07746
732-222-3553
Full News Archive
2023
2022
2021
2020
2019
2018
2017
2016
2015
2014
2013
2012
2011
2010
2009
2008