Rigging Equipment - Plan of Control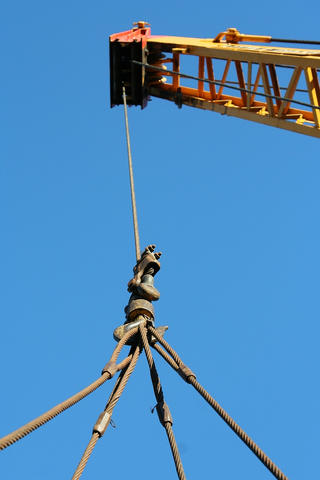 In both rigging and demolition equipment is what gets the job done. However, it is intelligent, experienced people that decide on the approach of how things get done and in what progression, which determines what specific equipment and sizes are required at various points in the project. All of this becomes a logistics issue as equipment is needed at different times on different projects.
R. Baker works closely with many EHS (environmental health and safety) departments with our rigging and or demolition plans of control. These plans of control coordinate with the client, what must be used, and where and how things get utilized. Many clients have the equipment and environmental standards and procedures already, such as low or no emission forklifts and or bobcats. As well as when noise or vibration, such as jackhammering can occur, either during or after working hours. This includes lifts by a crane that may take loads over occupied spaces, these potentially need re-routing or being done on off-hours when buildings are unoccupied. Dust and smell that can carry over to busy areas is another consideration; working off-hours can remedy this or having the proper ventilation and or filtration in place.
No one likes surprises which is why it is always best to share your approach and plan of control with your customers. As Benjamin Franklin once said, "If you fail to plan, you plan to fail." Your strategy should incorporate your customers' standards along with your criteria, thus showing you have planned the project in detail. Also helping to pave the way for the project specific safety plan, THA's and toolbox talks, all-the-while developing a collaborative work environment between all parties.
About R. Baker & Son All Industrial Services

R. Baker & Son All Industrial Services, a Service-Disabled Veteran-Owned Business (SDVOB) in business since 1935, is a premier specialized contractor operating in the United States, Canada and Puerto Rico, with over one hundred employees and an exemplary safety record (we have been directly involved in four sites that received VPP OSHA Safety Awards). R. Baker & Son is financially strong, with bonding capabilities over $10 million. Capabilities include industrial and commercial demolition, rigging, machinery- and plant-moving, dismantling, decommissioning, plant and equipment relocation, interior demolition, selective demolition, warehousing, wrecking and razing, millwright, plant reconfigurations, heavy rigging, salvage, environmental services, remediation, decontamination, abatement, and investment and asset recovery.
R. Baker & Son - All Industrial Services
190 Boundary Road
Marlboro, NJ 07746
732-222-3553
http://rbaker.com/
Full News Archive
2023
2022
2021
2020
2019
2018
2017
2016
2015
2014
2013
2012
2011
2010
2009
2008