Demolition and Closing the Gap on Project Delays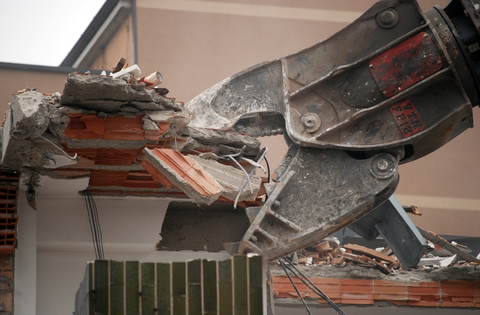 Oftentimes during selective demolition or interior demolition activities, opening up walls, ceilings, floors, shafts and pits can expose a plethora of structural problems, code issues, and other hidden surprises previously unknown to building owners, architects, engineers, project managers and contractors. This is usually due to the fact that drawings and documentation of a building's original construction and subsequent renovations are often inaccurate, incomplete, or missing entirely. It is always understood that architectural and engineers' project plans are never set in stone when it comes to demolition.
Structural issues and code violations can seriously derail a project, so correcting these issues and bringing things up to current codes must be prioritized to get it back on track. Responsible demolition contractors like R. Baker & Son will generate a Request for Information, or RFI, for architects or structural engineers to address uncovered issues, fill in what is known as the gap and determine what actions should take place with regard to how the project should proceed. Firewalls, joists, columns, fireproofing, and supports may have problems and deficiencies that must be corrected. With everything now exposed, 3D laser scanning and BIM (building information modeling) may be incorporated. This often necessitates changes to project plans with regard to placement of new ductwork, piping, electrical, sprinklers, conduit, cable tray, lighting and ceilings.
Failing to document structural anomalies, code issues, and other problems to the engineer-of-record and owner in writing, or with photos and/or marked-up drawings when necessary, in a timely manner is almost invariably destined to lead to greater project costs, excessive finger-pointing, and lengthened schedule delays. This underlines the value of using a highly experienced, knowledgeable demolition contractor like R. Baker & Son that readily recognizes such issues and follows required protocols and procedures when they occur.
About R. Baker & Son All Industrial Services
R. Baker & Son All Industrial Services, a Service-Disabled Veteran-Owned Business (SDVOB) in business since 1935, is a premier specialized contractor operating in the United States, Canada and Puerto Rico, with over one hundred employees and an exemplary safety record (we have been directly involved in four sites that received VPP OSHA Safety Awards). R. Baker & Son is financially strong, with bonding capabilities over $10 million. Capabilities include industrial and commercial demolition, rigging, machinery- and plant-moving, dismantling, decommissioning, plant and equipment relocation, interior demolition, selective demolition, warehousing, wrecking and razing, millwright, plant reconfigurations, heavy rigging, salvage, environmental services, remediation, decontamination, abatement, and investment and asset recovery.
R. Baker & Son - All Industrial Services
190 Boundary Road
Marlboro, NJ 07746
732-222-3553
Full News Archive
2023
2022
2021
2020
2019
2018
2017
2016
2015
2014
2013
2012
2011
2010
2009
2008