Rigging and Installing Prefabricated Skids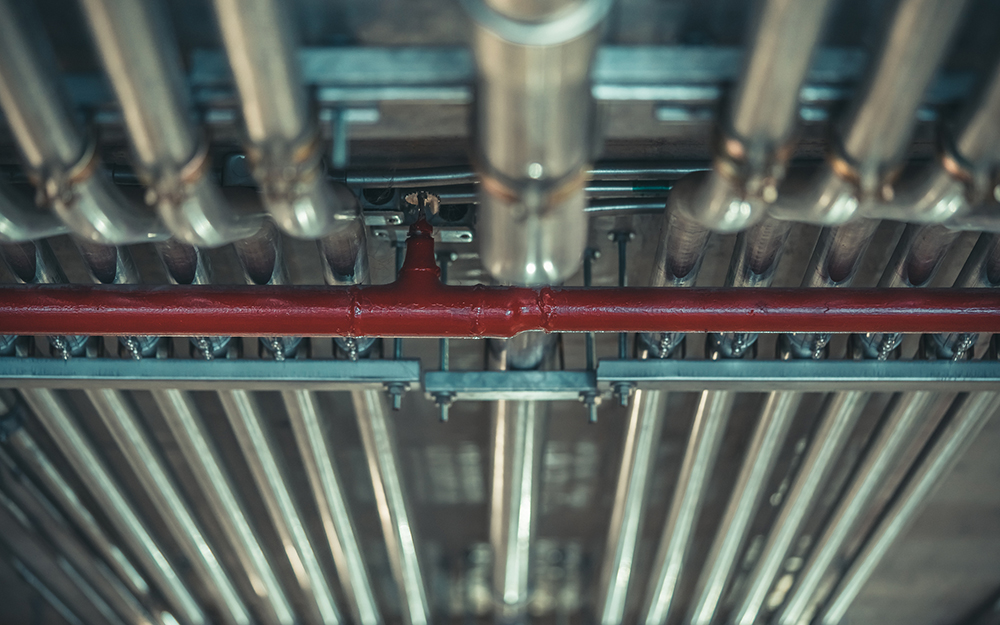 At the completion of the interior demolition phase of a large renovation project, the mechanical contractor approached R. Baker & Son to request their assistance with rigging and installing prefabricated skids and pipe racks of mechanical systems and equipment.
After first rigging and installing chillers and cooling towers, the Baker Team assisted the manufacturer of the custom air handler with the assembly of seven air handlers, each of which arrived onsite in six sections. We used a 130-ton hydraulic crane to hoist each section in sequence to a small sixth-floor opening into the penthouse, where they were transferred to the large dollies, then onto the concrete housekeeping pads for assembly. Next up were prefabricated hot water and chilled water pumping skids that included heat exchangers, valves, air separators and all other specialties; riggers carefully moved the skids to their places and set them with laser precision, thanks to extensive BIM modeling of the facility. Prefabricated piping for interconnecting the skids and air handlers was rigged into the penthouse and hoisted into place on waiting hangers, ready to be bolted together.
Below the penthouse were five stories of office and lab spaces. Dozens of 6 ½ ft. x 20-30 ft. pipe racks housing everything from chilled water, reheat hot water, compressed air, lab gases, and even ductwork, were assembled with 1 ½ inch strut on each floor. The mechanical had each pipe rack delivered in a cascading sequence so that the end of each pipe rack could be connected to the next section, each of which arrived by dolly and was lifted to the waiting threaded rod using several Vermette 520 lifts.
About R. Baker & Son All Industrial Services
R. Baker & Son All Industrial Services, a Service-Disabled Veteran-Owned Business (SDVOB) in business since 1935, is a premier specialized contractor operating in the United States, Canada and Puerto Rico, with over one hundred employees and an exemplary safety record (we have been directly involved in four sites that received VPP OSHA Safety Awards). R. Baker & Son is financially strong, with bonding capabilities over $10 million. Capabilities include industrial and commercial demolition, rigging, machinery- and plant-moving, dismantling, decommissioning, plant and equipment relocation, interior demolition, selective demolition, warehousing, wrecking and razing, millwright, plant reconfigurations, heavy rigging, salvage, environmental services, remediation, decontamination, abatement, and investment and asset recovery.
R. Baker & Son - All Industrial Services
190 Boundary Road
Marlboro, NJ 07746
732-222-3553
Full News Archive
2023
2022
2021
2020
2019
2018
2017
2016
2015
2014
2013
2012
2011
2010
2009
2008