R. Baker & Son Provides a Wide Range of Environmental Services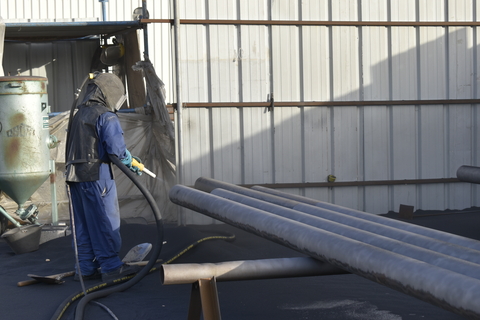 Included among R. Baker & Son's core services are environmental remediation and decontamination. We boast a team of highly-trained environmental remediation personnel as well as an arsenal of tools and equipment that includes excavators, power and pressure washers, HEPA vacuums and filtration, industrial scarifiers, line-pigging equipment, and more. Remediation and decontamination are often performed as part of the demolition, decommissioning, dismantling, or other projects. R. Baker & Son personnel are HAZWOPR certified and CSE trained.
R. Baker & Son environmental services include:
*Surface Cleaning (soda blasting)
*Pipeline Cleaning and Pigging
*HVAC and Other Duct Cleaning
*Non-ACM Insulation Removal
*Column, Tank and Vessel Cleaning
*Scarification
*HEPA Vacuum Services
*Line Flushing and First Line Breaks
*Power Washing and Steam Cleaning of Pipes and Equipment
Surface Cleaning/Soda Blasting
Soda blasting is widely recognized as a superior and environmentally friendly method of cleaning, paint removal, and degreasing surfaces. Sodium bicarbonate, also known as baking soda, is granular and sharp enough to remove carbon, grease, oils, paint, rust, dirt, etc., from a variety of surfaces. Unlike harsh sandblasting and other methods that can damage substrates, however, it can be used on virtually any surface including steel, stainless steel, aluminum, galvanized metal, concrete, ceramic tile, glass, plastics, rubber, neoprene, etc., and is environmentally safe. ARMEX, the industry leader, offers a variety of particle sizes, formulations, and equipment, allowing R. Baker & Son to accommodate our clients' wide range of needs.
Pipeline Cleaning and Pigging
Pipeline buildup causes contamination, reduced flow, and decreased production, and can lead to cracks in the line. R. Baker & Son provides pigging as an effective method for removing solids and liquids, scraping, line drying, and pipeline inspection. Pigging is accomplished by propelling a cylindrical or spherical "pig" through a pipeline using one of several means including existing product flow, compressed air, inert gas, or it can be towed through a line by a cable or other device. As the pig travels through the pipeline, it sweeps the line by scraping the sides and pushing debris ahead. Other methods of pipeline cleaning employed by R. Baker & Son include flushing, jet-washing, hydro-blasting, mechanical cleaning, acid cleaning, and chemical cleaning, depending on a client's specific needs.
HVAC and Other Duct Cleaning
HVAC ductwork can become dirty over time, spreading dust, mold, bacteria, and other contaminants throughout a facility and causing a myriad of health and productivity problems associated with poor indoor air quality. The buildup of dust and debris in duct systems can also restrict airflow, reduce system efficiency, provide a breeding ground for mold and bacteria, and increase the risk of fire in facilities where combustible dust is present. Ductwork should be periodically inspected and cleaned by a certified professional like R. Baker & Son.
Non-ACM Insulation Removal
When the removal of non-ACM insulation (fiberglass, cellulose, etc.) becomes necessary, R. Baker & Son strictly adhere to proper safety procedures. Equipment such as HEPA vacuums, filters, and air misting, are used to prevent hazardous particulates like fiberglass, mold, rodent droppings, and other contaminants from escaping into the air, and all materials are properly containerized and disposed of.
Column, Tank and Vessel Cleaning
Safety is always of utmost importance when cleaning columns, vessels, and other confined spaces. Automated, remotely-controlled cleaning using high flow, high-pressure water jetting pumps is always preferable and used whenever possible, though human intervention is sometimes necessary. In projects where human entry is required, stringent safety procedures and PPE requirements are strictly followed. R. Baker & Son uses the latest high-tech cleaning equipment and workers are fully trained and experienced in both automated and manual cleaning methods as well as material containment and disposal.
Scarification
Scarification is a process used on concrete flooring to clean, texturize, level, groove, or remove material. It is commonly performed to remove deteriorated, damaged, or contaminated concrete, or to remove epoxy, paint, adhesives, or other coatings. Scarifying leaves surfaces clean, evenly textured, and ready to receive a new coating or overlayment. R. Baker & Son uses scarifiers that are equipped with a vacuum system to capture dust and utilizes HEPA scarifiers in conditions or environments in which it is necessary to capture and contain 100% of airborne particulates and over 99% of heavier solids.
HEPA Vacuum Services
Environmental cleanup and abatement often require HEPA vacuum equipment for the removal of hazardous and toxic materials, dust, particulates, and fine powders. HEPA, or high-efficiency particulate air, is a type of filter that meets an efficiency standard set by the DOE, removing at least 99.97% of all particles greater than 0.3 micrometers. R. Baker & Son provides HEPA vacuum services for lead abatement, lead paint removal, mold remediation, duct cleaning, and various other applications.
Line Flushing and First Line Breaks
When process pipes require flushing and/or first-line breaking, R. Baker & Son can provide all the necessary pumps, filters, hoses, and other equipment required for a full gamut of specifications. It is important that lines are properly flushed, vented, and verified as clear of hazardous residue, plugs, or pressure during line breaking, so it is important that these services be performed by trained, experienced personnel.
Power Washing and Steam Cleaning of Pipes and Equipment
R. Baker & Son provides power/pressure washing and steam cleaning for a variety of pipe- and equipment-cleaning tasks. Pressure washing requires specialized industrial equipment, and appropriate measures are taken for water reclamation, filtration, containment, reuse, or disposal. Steam cleaning reduces the amount of water used by up to 95% compared to power washing and reduces or eliminates the need for solvents or chemicals. It can be safely used in water-sensitive areas such as around electrical equipment, in control panels, on motors, etc. Steam can be used to clean and sanitize pipes, as well, and can reach small cracks and crevices.
About R. Baker & Son All Industrial Services
R. Baker & Son All Industrial Services, a Minority and Women-Owned Business Enterprise (M/WBE), in business since 1935, is a premier specialized contractor operating in the United States, Canada and Puerto Rico, with over one hundred employees and an exemplary safety record (we have been directly involved in four sites that received VPP OSHA Safety Awards). R. Baker & Son is financially strong, with bonding capabilities over $10 million. Capabilities include industrial and commercial demolition, rigging, machinery- and plant-moving, dismantling, decommissioning, plant and equipment relocation, interior demolition, selective demolition, warehousing, wrecking and razing, millwright, plant reconfigurations, heavy rigging, salvage, environmental services, remediation, decontamination, abatement, and investment and asset recovery.
R. Baker & Son - All Industrial Services
190 Boundary Road
Marlboro, NJ 07746
Full News Archive
2023
2022
2021
2020
2019
2018
2017
2016
2015
2014
2013
2012
2011
2010
2009
2008