Expert in Transporting Oversize Loads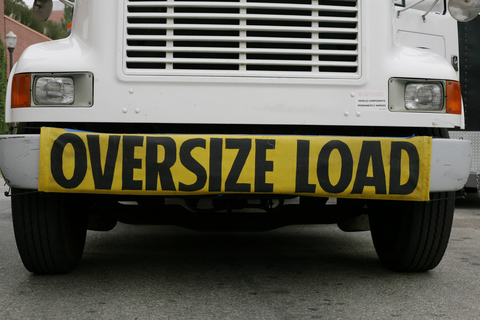 R. Baker is regularly called upon to move oversize loads carrying industrial equipment, cranes, excavators, heavy construction machinery, and more. Here in the United States, an oversize load is a load that exceeds standard size and/or weight limits for the roads over which it travels. Special permits are required for these oversize loads to minimize traffic delays and safety hazards.
In most U.S. states, a non-divisible load that is wider than 8' 6" is considered oversize, and height and weight limits vary from state to state. Permits must be obtained in advance from each state through which the load will travel. Permits in many states are for state roadways only, and transportation companies may be required to acquire permits from county and local authorities. Software is available to help carriers map oversize routes, and many states have websites to plot routes as well. These programs analyze routes for continuity, horizontal and vertical clearances, and temporary restrictions such as road construction, and perform load analyses of structures the permit vehicle will cross. Many carriers enlist oversize load permit specialists to map routes and obtain the necessary permits.
Permit application in most states must detail the vehicle height, length, and width, axle weights, overall gross vehicle weight, dates of travel, and route details. Vehicles must display "WIDE LOAD" or "OVERSIZE LOAD" signs and warning flags. Depending on load size, escort vehicles may be required to precede or follow the load at specific distances to warn other drivers and pedestrians and transmit information to the oversize load vehicle, and these escort vehicles must bear warning signs, lights, and flags as well. Some states require lead escort vehicles to be equipped with a high pole designed to strike overhead obstructions such as overpasses, power lines that are too low to prevent collisions and structure damage. Most oversize load permits restrict travel to specific dates and time of day.

R. Baker & Son - All Industrial Services
1 Globe Court
Red Bank, NJ 07701
732-222-3553
http://www.rbaker.com
Full News Archive
2023
2022
2021
2020
2019
2018
2017
2016
2015
2014
2013
2012
2011
2010
2009
2008