Organization Mobilization on a Project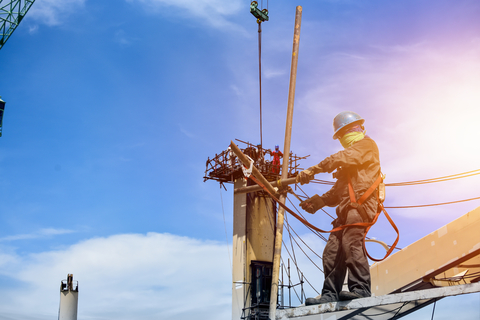 One of the key attributes of a quality rigging and demolition contractor is the ability to organize, coordinate, and mobilize manpower and equipment to a worksite quickly and efficiently. Many projects demand quick mobilization by R. Baker and as we are often the first trade needed on a project, particularly when emergency demolition is required.
First, project personnel must ensure that all necessary tools, equipment, and PPE are on hand and thoroughly inspected and calibrated. This includes everything from slings, shackles, Johnson bars, spreader bars, stainless steel cabling, and gas sniffers, just to name a few. A specific quality plan must be provided along with proper insurances, contract documents, and any changes that need to be addressed upfront.
There are numerous things that must be addressed at the start of a project. Where on the site should Baker crews and equipment mobilize? Is there access to large machineries like lulls, dumpsters, and trailers? Where will items and equipment like Bobcats and tanks be stored? How many team members need to be at the site on day one, and what trades, e.g. electricians, riggers, demolition crews, plumbers, etc.? What tasks must be accomplished in the first few days or weeks?
Construction projects are dynamic by nature, and a quality rigging contractor like R. Baker & Son is always ready to adapt to unexpected problems and changes such as when clients require additional work scope or reassign tasks that were originally to have been performed by other trades. All of these tasks must be handled smoothly among multiple projects going on at the same time.
If it sounds complicated, that's because it is, but R. Baker & Son personnel in the office, warehouse, and parts department, as well as foremen, road supers who run the projects, and those who interface with the customers are always on top of their game, no matter what the challenges are (and these past 20 months have been exceptionally challenging). As 2021 comes to a close, we want to say thank you and express our sincere appreciation to our supremely talented team.


About R. Baker & Son All Industrial Services
R. Baker & Son All Industrial Services, a Minority and Women-Owned Business Enterprise (M/WBE), in business since 1935, is a premier specialized contractor operating in the United States, Canada, and Puerto Rico, with over one hundred employees and an exemplary safety record (we have been directly involved in four sites that received VPP OSHA Safety Awards). R. Baker & Son is financially strong, with bonding capabilities of over $10 million. Capabilities include industrial and commercial demolition, rigging, machinery- and plant-moving, dismantling, decommissioning, plant and equipment relocation, interior demolition, selective demolition, warehousing, wrecking and razing, millwright, plant reconfigurations, heavy rigging, salvage, environmental services, remediation, decontamination, abatement, and investment and asset recovery.
R. Baker & Son - All Industrial Services
190 Boundary Road
Marlboro, NJ 07746
732-222-3553
Full News Archive
2023
2022
2021
2020
2019
2018
2017
2016
2015
2014
2013
2012
2011
2010
2009
2008