Rigging Setting the Final Pieces of Process Equipment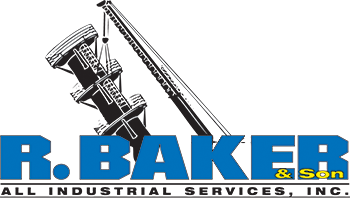 A large, ongoing pharmaceutical project was facing a dilemma. With most work progressing smoothly and on-schedule, equipment for one very important process area would not be arriving onsite until the very end of the project. R. Baker & Son and the construction manager came up with an ingenious plan for rigging the equipment into the facility without interrupting the flow of the project.
R. Baker & Son had rigged and set in place various mechanical equipment including chillers, cooling towers, air handlers, heat exchangers, tanks, air compressors, and plumbing skids. Some of the process equipment arrived at the job site next and was routed through the corridors and into the process suites following a detailed rigging and routing plan developed early in the project. Process equipment included large isolators, tanks, servo lifts, filling lines and several large platforms.
The process area in question was to include a two-story fluid bed, a granulator, and process air handling unit with control panel. All of the pieces were being fabricated and factory acceptance-tested before they were shipped from overseas. Because of the massive size of the equipment, R. Baker would not be able to bring it through the building, so it was decided that it would be rigged vertically through an exactly-plotted and measured opening in the roof directly into the process suite onto pre-erected platforms where they would be mounted with precision.
The final process equipment arrived three weeks from the completion date. All areas had been substantially finished, and finishing touches and punch list items were being completed. With a clear window of weather forecast, the temporary roof above the process suite was removed along with a section of ceiling fifteen feet below. The process air handling unit was rigged in on-end to fit through the opening, then turned to its horizontal position and set on its mechanical platform. Next, two Hoffman enclosure control panels were rigged onto the mechanical platform. The 1-ton, 8-ft. tall granulator came next, followed by the two-story vertical fluid bed weighing three tons, its feet mounted directly onto the awaiting stainless steel platform.
Once the equipment had been set in place, the ceiling and roof openings were closed and sealed. Final electrical and mechanical interconnects were completed on the process equipment and air balancing was performed. The building was completed on time, and the project received its Certificate of Occupancy as scheduled.
About R. Baker & Son All Industrial Services
R. Baker & Son All Industrial Services, a Service-Disabled Veteran-Owned Business (SDVOB) in business since 1935, is a premier specialized contractor operating in the United States, Canada and Puerto Rico, with over one hundred employees and an exemplary safety record (we have been directly involved in four sites that received VPP OSHA Safety Awards). R. Baker & Son is financially strong, with bonding capabilities over $10 million. Capabilities include industrial and commercial demolition, rigging, machinery- and plant-moving, dismantling, decommissioning, plant and equipment relocation, interior demolition, selective demolition, warehousing, wrecking and razing, millwright, plant reconfigurations, heavy rigging, salvage, environmental services, remediation, decontamination, abatement, and investment and asset recovery.
R. Baker & Son - All Industrial Services
190 Boundary Road
Marlboro, NJ 07746
732-222-3553
Full News Archive
2023
2022
2021
2020
2019
2018
2017
2016
2015
2014
2013
2012
2011
2010
2009
2008