Crane & Rigging Operations and Safety During Winter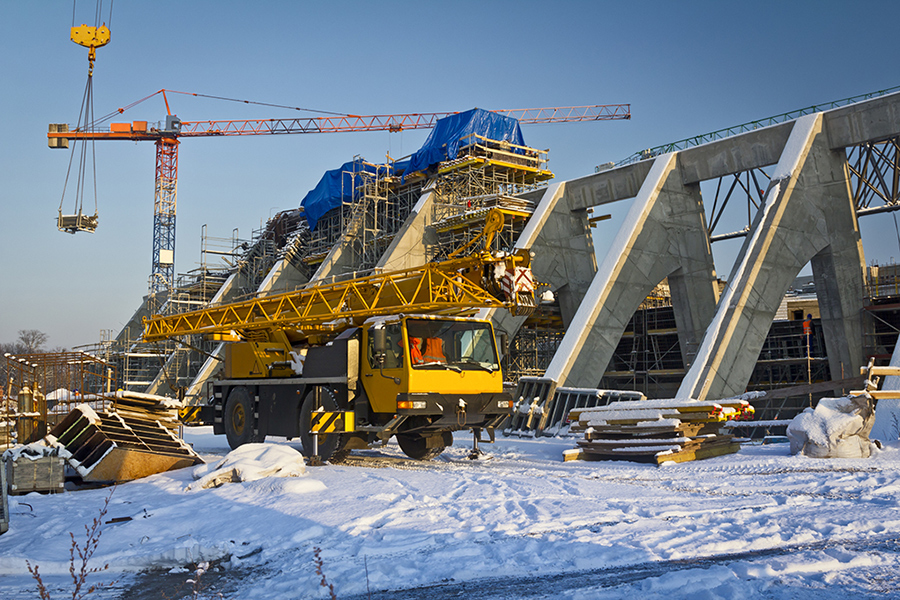 Winter is here, and as always, frigid temperatures, ice, and snow have the potential to create hazards that require crane and rigging personnel to take special precautions. These safeguards apply not only to riggers, millwrights, and crane operators like those employed here at R. Baker & Son (not to mention any worker involved in construction), but to rigging equipment and the crane itself.
Crane & Rigging Equipment Winter Precautions
It goes without saying that cold weather can had negative effects on cranes, rigging equipment, and other heavy machinery. Warm up equipment before operating to help prevent malfunction and ensure that hydraulic fluids are not thick and sluggish. Check surfaces on and around the crane for accumulated snow or ice. Check the crane's load chart for information on cold weather operation, as extreme temperatures can compromise crane equipment and reduce capacity. Use high-grade fuel or add fuel conditioner appropriate for the equipment. Protect the engine from snow and ice with a weather-resistant tarp when not in use to prevent condensation that can affect operation or cause corrosion. In addition to cranes, ensure that trucks, tools and heavy equipment can start and run properly in freezing weather to reduce worker exposure.
Crane & Rigging Personnel Safety
Whenever possible, work should be managed accordingly to avoid extreme winter conditions. Walkways and stairways should be cleared, salted, and sanded on at least daily basis, and more often when necessary. Ice and snow melts and refreezes overnight, so salting and sanding should be done in the morning before work begins. Snow should not be piled too high to prevent collapse. Warm areas should be provided for breaks.
Rigging crew members should dress appropriately for cold, wet, snowy, or windy weather and should learn to recognize signs of cold stress and frostbite in themselves and others. Staying dry is important, because moisture and dampness, including sweat, can increase the body's rate of heat loss. Wear layers; for inner layers, wool silk, and synthetics work better than cotton. Avoid tight clothing, which can reduce blood circulation. Hats should cover the ears, and gloves should be worn to protect hands and prevent loss of dexterity. Drink warm, sweetened fluids to keep the body warm.
While it is a given that alcohol should never be consumed on any jobsite, at any time, it's worth mentioning that alcohol should never be used to keep warm during off-hours, either. Contrary to popular belief, alcohol actually lowers the body's core temperature and increases the chance of hypothermia.
Full News Archive
2023
2022
2021
2020
2019
2018
2017
2016
2015
2014
2013
2012
2011
2010
2009
2008