Requirements of Selective Demolition in Healthcare Facilities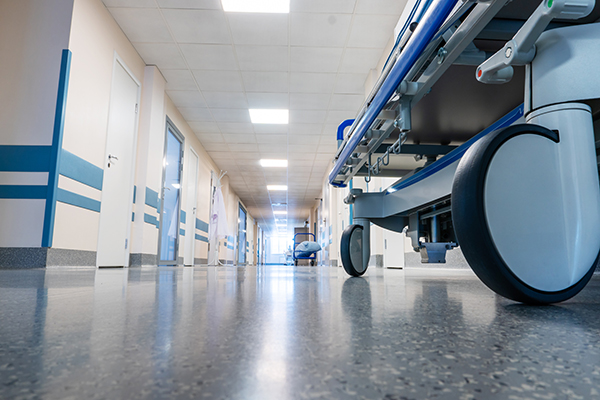 Some of the most challenging selective demolition jobs are renovation projects that take place in healthcare facilities, where demolition team members must be specially trained to work in sensitive environments. Patient and worker safety are of utmost importance in hospitals, surgery centers, and rehabilitation facilities, so meticulous planning and strict adherence to clean demolition procedures are critical to these types of projects.
Case in point, a large hospital in northern New Jersey was adding on to their cardiac care unit and R. Baker & Son was tasked with interior demolition. Before the area could be segmented off, modifications to ventilation and airflow, as well as electrical and hospital gas systems, were necessary. It had been determined that much of the ductwork could be cut and the existing ventilation system rebalanced to compensate for changes in the HVAC system. The Baker team worked closely with MEP contractors, walking down and identifying where lines would be cut and capped or rerouted and color-coding each, with red signifying what would stay and green signifying what lines were to be removed.
Selective demolition in a healthcare facility requires the construction of a cocooned area with airlocks at the entrances and exits to ensure that dust and contaminants cannot escape the work area. Airlocks are monitored by a magnehelic differential pressure gauge to ensure negative pressure is maintained at all times. Peel-away adhesive mats are installed at all access points to ensure that dirt from the work area is not tracked onto facility floors. Demolition debris is deposited in bins that are covered with plastic sheeting and must be fully wiped down before passing through an oversized exit airlock and over a sticky mat to remove any remaining contaminants.
Once all debris had been removed from the demolition area, R. Baker & Son performed a detailed review and prepares a punch list to ensure all work had been completed. Last but not least, the entire area was wiped down and cleaned with industrial HEPA vacuums to eliminate as much dust as possible before new construction began.
About R. Baker & Son All Industrial Services
R. Baker & Son All Industrial Services, a Minority and Women-Owned Business Enterprise (M/WBE), in business since 1935, is a premier specialized contractor operating in the United States, Canada and Puerto Rico, with over one hundred employees and an exemplary safety record (we have been directly involved in four sites that received VPP OSHA Safety Awards). R. Baker & Son is financially strong, with bonding capabilities over $10 million. Capabilities include industrial and commercial demolition, rigging, machinery- and plant-moving, dismantling, decommissioning, plant and equipment relocation, interior demolition, selective demolition, warehousing, wrecking and razing, millwright, plant reconfigurations, heavy rigging, salvage, environmental services, remediation, decontamination, abatement, and investment and asset recovery.
R. Baker & Son - All Industrial Services
190 Boundary Road
Marlboro, NJ 07746
Full News Archive
2023
2022
2021
2020
2019
2018
2017
2016
2015
2014
2013
2012
2011
2010
2009
2008