Ground-Penetrating Radar (GPR) and Demolition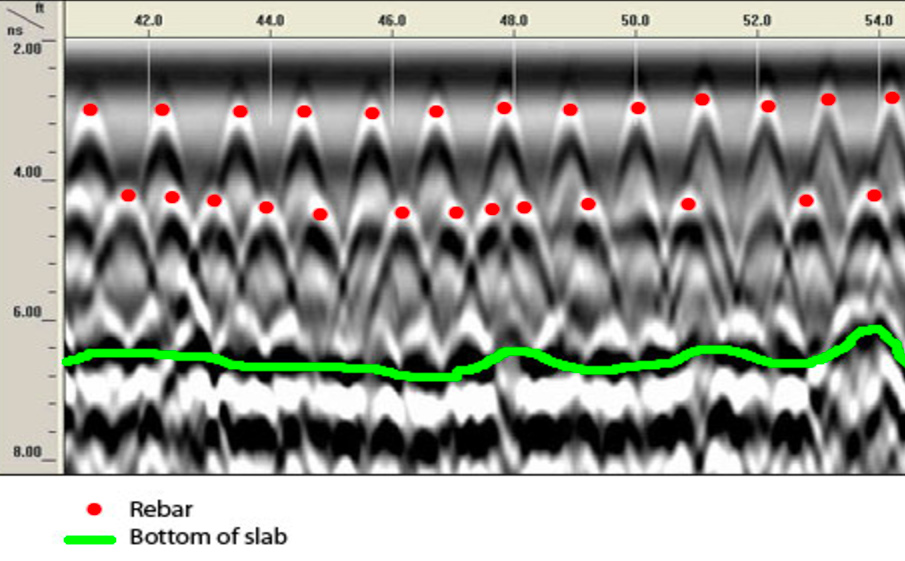 R. Baker & Son recently performed selective demolition at a renovation project at a pharmaceutical plant. One of the Baker Team's challenges was to make way for new laboratory exhaust ductwork without cutting through or damaging utilities hidden within foot-thick concrete walls, floors, and ceilings or compromising structural integrity. As-built drawings are can often be inaccurate, especially in older buildings, so R. Baker & Son turned to ground-penetrating radar, or GPR, to reveal what was hidden in the concrete.
GPR is a subsurface scanning method that emits high-frequency radio pulses into concrete or ground surface. When the radar waves encounter a buried object, they bounce back and are captured by a receiver that that processes and interprets the data and displays real-time screen images. GPR used in construction and demolition can reveal rebar, mesh, conduits, post-tension cable, and voids. An effective alternative to GPR is X-ray, which provides a far more accurate image than GPR but comes back with a number of significant drawbacks. X-ray requires access to both sides of a slab or wall, is slower and more expensive than GPR, and generates harmful radiation that requires special precautions and procedures.
On this particular demolition project, R. Baker & Son opted for ground-penetrating radar over X-ray due to budget and scheduling constraints. A GPR specialist was brought in to identify and mark out areas where there was little to no concealed electrical conduit and rebar before Baker crew members could proceed with cutting and drilling through concrete. In areas where it was impossible to avoid cutting conduit, GPR allowed the crew members to carefully chip away the concrete to expose the conduit and trace it back to its origin, where it was safely locked- and tagged-out. Other project work included selective demolition of lab casework, existing ductwork, and lighting.
About R. Baker & Son All Industrial Services

R. Baker & Son All Industrial Services, a Service-Disabled Veteran-Owned Business (SDVOB) in business since 1935, is a premier specialized contractor operating in the United States, Canada and Puerto Rico, with over one hundred employees and an exemplary safety record (we have been directly involved in four sites that received VPP OSHA Safety Awards). R. Baker & Son is financially strong, with bonding capabilities over $10 million. Capabilities include industrial and commercial demolition, rigging, machinery- and plant-moving, dismantling, decommissioning, plant and equipment relocation, interior demolition, selective demolition, warehousing, wrecking and razing, millwright, plant reconfigurations, heavy rigging, salvage, environmental services, remediation, decontamination, abatement, and investment and asset recovery.
R. Baker & Son - All Industrial Services
190 Boundary Road
Marlboro, NJ 07746
732-222-3553
http://rbaker.com/selective-demolition.php
Full News Archive
2023
2022
2021
2020
2019
2018
2017
2016
2015
2014
2013
2012
2011
2010
2009
2008