Safe, Successful Demolition Projects Start with Good Planning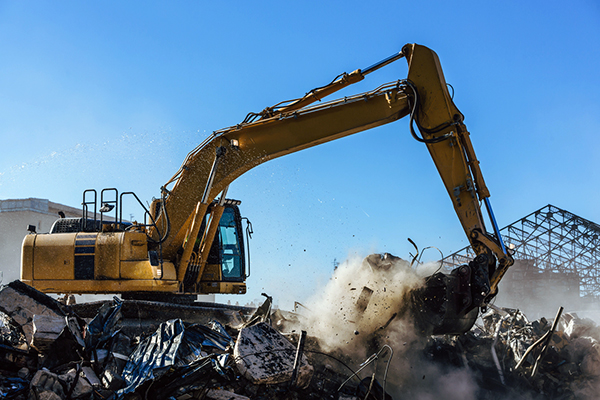 When hiring a demolition contractor for a project, owners must consider various factors and qualifications. Experience, price, safety, reputation, reliability, financial stability, and work quality are all essential to the decision, but many owners tend to overlook a central consideration: what is the demolition contractor's overall plan for the project? Demolition usually paves the way for the rest of a project to commence, so a smooth, on-schedule demolition phase is a critical part of most projects. Better demolition contractors like R. Baker & Son can provide considerably detailed plans even before a project is awarded.
A good demolition contractor will present a plan that addresses important questions. What is the site-specific safety plan? How will equipment be mobilized onsite and through what points of access? What steps will be taken to minimize dust, noise, and vibration? Will demolition progress in phases? What are the specific challenges, and how will they be approached? Is shift work recommended for the project and how will costs be held in check? Bidding demolition contractors may also provide marked-up drawings to demonstrate project plans to potential clients.
A good demolition plan can distinguish superior contractors from the rest of the field, demonstrating greater caring and expertise as well as a deeper understanding of the intricacies of the project. Added costs due to unexpected issues are minimized or eliminated when a demolition contractor has a better grasp of project details. Early, innovative planning and execution allow projects to proceed smoothly to come in on time and on budget.
With 86 years of experience under our belt, R. Baker & Son clients can rest assured that we approach every potential project with a solid plan aimed at ultimately delivering a successful project.
About R. Baker & Son All Industrial Services
R. Baker & Son All Industrial Services, a Minority and Women-Owned Business Enterprise (M/WBE), in business since 1935, is a premier specialized contractor operating in the United States, Canada, and Puerto Rico, with over one hundred employees and an exemplary safety record (we have been directly involved in four sites that received VPP OSHA Safety Awards). R. Baker & Son is financially strong, with bonding capabilities of over $10 million. Capabilities include industrial and commercial demolition, rigging, machinery- and plant-moving, dismantling, decommissioning, plant and equipment relocation, interior demolition, selective demolition, warehousing, wrecking and razing, millwright, plant reconfigurations, heavy rigging, salvage, environmental services, remediation, decontamination, abatement, and investment and asset recovery.
R. Baker & Son - All Industrial Services
190 Boundary Road
Marlboro, NJ 07746
Full News Archive
2023
2022
2021
2020
2019
2018
2017
2016
2015
2014
2013
2012
2011
2010
2009
2008