Innovation in Rigging Helps Preconstruction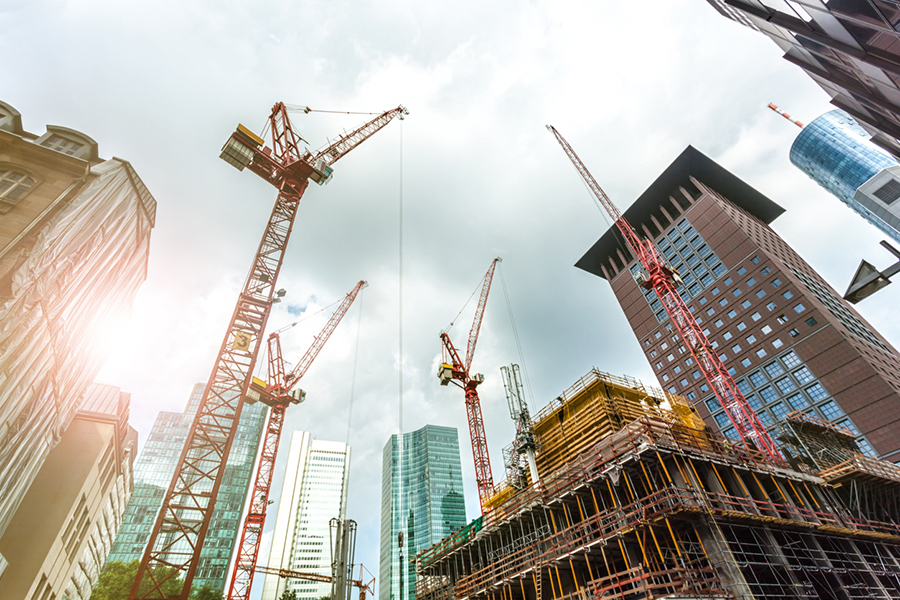 Many R. Baker & Son clients can attest to the marked advantages gained when we've gotten involved in preconstruction planning early on. Routing, rigging, and assembling large equipment are complex tasks, and oftentimes we come up with innovative methods others hadn't thought of that save substantial time and money.
The progression of most construction and renovation projects follows a similar pattern. Because most mechanical equipment has a long lead time, and process equipment lead times can be almost double that of mechanical equipment, construction managers, engineers, and architects are hard-pressed to continue moving forward with an aggressive schedule while waiting for equipment that will arrive at a future date.
Rigging and routing plans for this absent equipment are sometimes many months old and may have been prepared by well-intentioned persons who lack depth of knowledge in rigging methods and equipment. To further complicate matters, 3D models may call for putting off construction of certain sections of the facility and installation in anticipation of equipment arrival, which can cause scheduling problems and delays.
R. Baker & Son's expert rigging staff has been brought in on many complex projects to assist in the preconstruction phase where early planning for rigging and setting equipment that includes chillers, boilers, cooling towers, large air handlers, reheat hot water package skids, compressed air, etc., can pay for itself many times over.
For example, on one of our projects, we recommended revising plans that called for delaying construction of several walls, ductwork, and pipe racks to accommodate rigging in the mechanical equipment. Our better solution was to call for specific shipping splits and the installation of a skylight in the mechanical room. This provided easy access for the equipment, which was rigged in using a 130-ton crane, not to mention bringing natural light to the area.
On another project, concerns about damage to finished epoxy-floored corridors were solved by R. Baker's proposal to bring in all of the process equipment on air skates. Lyophilizers, isolators, cage washers, and autoclaves were glided into place on a cushion of air, with no damage to any finishes.
R. Baker & Son's early involvement on a third occasion led to a far more efficient, less expensive solution for rigging lab equipment and support systems into a multi-floor R&D facility. An elevator shaft was left unfinished and capped with a temporary curb and roof, and when the equipment finally arrived, we strategically lowered it down through the shaft and through the elevator door openings to the appropriate floors. Upon completion, the elevator car was installed and the roof permanently sealed and finished.
With over 85 years of experienced rigging, demolition, dismantling, and many other industrial services, we've seen a thing or two. R. Baker & Son knows the unique capabilities of a wide array of rigging and heavy equipment, and we have the experience to develop safe and innovative rigging techniques on our projects.
About R. Baker & Son All Industrial Services
R. Baker & Son All Industrial Services, a Minority and Women-Owned Business Enterprise (M/WBE), in business since 1935, is a premier specialized contractor operating in the United States, Canada, and Puerto Rico, with over one hundred employees and an exemplary safety record (we have been directly involved in four sites that received VPP OSHA Safety Awards). R. Baker & Son is financially strong, with bonding capabilities of over $10 million. Capabilities include industrial and commercial demolition, rigging, machinery- and plant-moving, dismantling, decommissioning, plant and equipment relocation, interior demolition, selective demolition, warehousing, wrecking and razing, millwright, plant reconfigurations, heavy rigging, salvage, environmental services, remediation, decontamination, abatement, and investment and asset recovery.
R. Baker & Son - All Industrial Services
190 Boundary Road
Marlboro, NJ 07746
Full News Archive
2023
2022
2021
2020
2019
2018
2017
2016
2015
2014
2013
2012
2011
2010
2009
2008