R. Baker & Son Process Tank Repair Project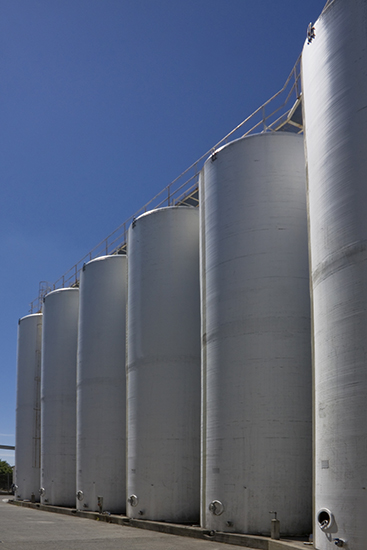 A longtime R. Baker & Son client with several large process tank farms at their New Jersey facility contacted us for assistance with tank repairs. A manufacturer supplying tank agitators needed several experienced riggers and millwrights for interior and exterior repairs. Usually, the Baker team is called in to disassemble and remove tanks, but this time we were helping to renew them.
Over the years, these 20,000-gallon tanks had been used to mix and store various food and plant process media prior to shipment via truck or rail to other U.S. locations. At 23 years old, the tanks themselves were in excellent shape and needed little more than new gasketing and a good cleaning inside and out, but the tank agitators used to mix the media had taken a beating and were in need of repair or replacement. Agitator runout measurements were far beyond allowable parameters, so it was the decided that the best and most financially feasible plan of action would be to repair eight of the agitators and completely replace three.
Tank interiors measured eighteen feet in height and could not accommodate scaffolding, so workers would need to be lowered into the tanks in order to reach the upper part of the shaft to perform shaft heat treatment and repair or replace agitator blades safely. Instrumentation and upper and lower manway covers were removed to allow ventilation and access to the tanks and a bosun's chair with fall protection was used to gain access to higher levels of the agitators. Once heat treatment was completed on the agitators slated for repair, the shafts and blades were tested for runout and verified to be within acceptable parameters.
The R. Baker & Son rigging and millwright team next moved on to the tanks in which the agitators required replacement. Again using the bosun's chair, the interior blades were removed, leaving the only the hubs. An 80-ton crane was brought in to remove motor gearboxes and shafts and new pre-engineered replacement agitators were rigged into the tanks. After the Baker team installed new blades, runout tested successfully.
At completion, the tanks were in like-new condition with repaired or new agitators, new instrumentation, new LED lighting, and new spray balls for cleaning. R. Baker & Son took about two weeks to complete the project with little downtime to the customer as we were able to coordinate our activities with the customer's operating requirements.
The agitator manufacturer was duly impressed with our ingenuity and professionalism and will use R. Baker & Son's rigging and millwright team to make similar repairs nationwide at other facilities.
About R. Baker & Son All Industrial Services
R. Baker & Son All Industrial Services, a Minority and Women-Owned Business Enterprise (M/WBE), in business since 1935, is a premier specialized contractor operating in the United States, Canada and Puerto Rico, with over one hundred employees and an exemplary safety record (we have been directly involved in four sites that received VPP OSHA Safety Awards). R. Baker & Son is financially strong, with bonding capabilities over $10 million. Capabilities include industrial and commercial demolition, rigging, machinery- and plant-moving, dismantling, decommissioning, plant and equipment relocation, interior demolition, selective demolition, warehousing, wrecking and razing, millwright, plant reconfigurations, heavy rigging, salvage, environmental services, remediation, decontamination, abatement, and investment and asset recovery.
R. Baker & Son - All Industrial Services
190 Boundary Road
Marlboro, NJ 07746
https://rbaker.com/rigging-contractors.php
Full News Archive
2023
2022
2021
2020
2019
2018
2017
2016
2015
2014
2013
2012
2011
2010
2009
2008