Rigging - R. Baker & Son has the Skill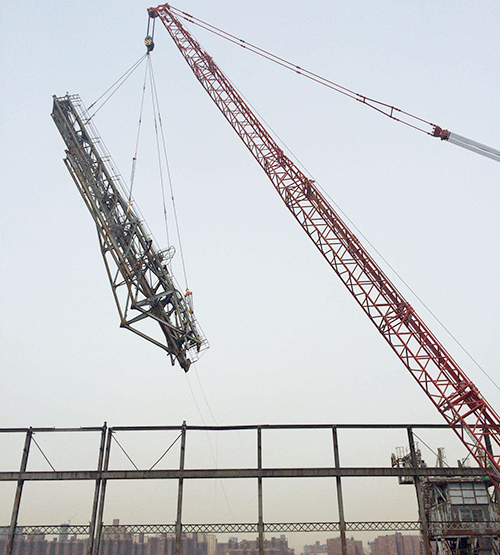 Rigging requires a great deal of skill and knowledge. One of the most critical aspects of a safe rigging project is ensuring that rigging equipment is in tiptop condition.

Rigging equipment inspection should be part of any rigging plan. After selecting the proper equipment for the job, all equipment must be inspected. Hardware such as spreader bars, shackles and slings, come alongs, Johnson bars and dunnage all need careful review for any wear and tear or specific anomalies. Clients can also view various online checklists from reputable organizations to learn about the process, and there are many YouTube videos that demonstrate the proper inspection techniques.

It is important to remember that, just because something is new does not mean it is safe to use. If something does not look right it should be discarded so no one else can use it. If rigging materials for a particular project are supplied by another contractor, such as a crane company, supplies rigging materials, it is the rigging contractor's job to inspect those items before use.

Adopting a rigging checklist and following it before each lift is something every company should do. Equipment should be reinspected after each pick before they are put away for use the next time. Minor things happen during the rigging process that could cut, nick, crack or tear hardware. If damaged equipment can be repaired, it should be done by a certified professional.

About R. Baker & Son All Industrial Services

R. Baker & Son All Industrial Services, a Service-Disabled Veteran-Owned Small Business (SDVOSB) in business since 1935, is a premier specialized contractor operating in the United States, Canada and Puerto Rico, with over one hundred employees and an exemplary safety record (we have been directly involved in four sites that received VPP OSHA Safety Awards). R. Baker & Son is financially strong, with bonding capabilities over $10 million. Capabilities include industrial and commercial demolition, rigging, machinery- and plant-moving, dismantling, decommissioning, plant and equipment relocation, interior demolition, selective demolition, warehousing, wrecking and razing, millwright, plant reconfigurations, heavy rigging, salvage, environmental services, remediation, decontamination, abatement, and investment and asset recovery.
R. Baker & Son - All Industrial Services
1 Globe Court
Red Bank, NJ 07701
http://www.rbaker.com
Full News Archive
2023
2022
2021
2020
2019
2018
2017
2016
2015
2014
2013
2012
2011
2010
2009
2008