Rigging and Assembly in New Storage and Maintenance Facility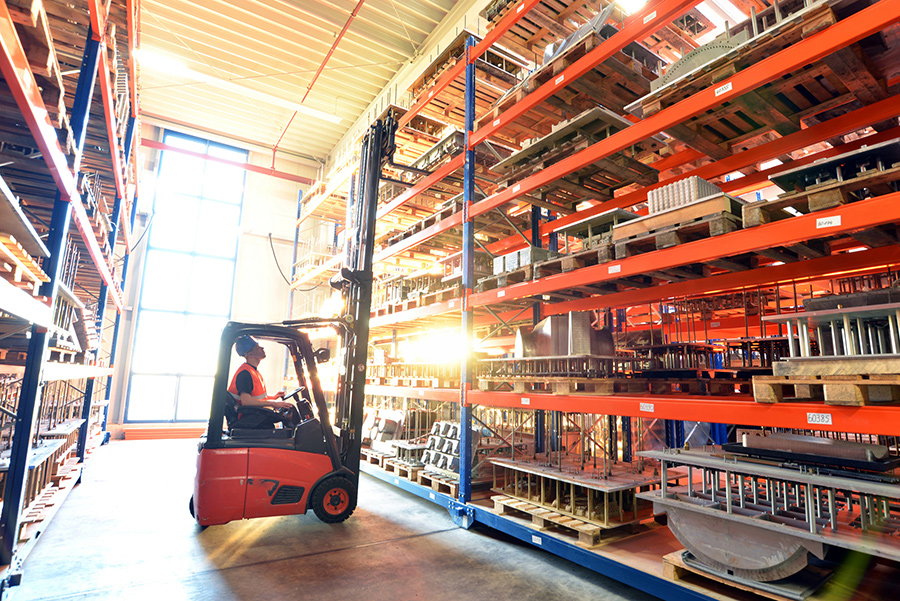 A longtime customer referred R. Baker & Son to a company in need of immediate assistance at their company's new storage facility. Truckloads of various materials and equipment were arriving daily, and the industrial racking systems needed to accommodate them had been delayed by months and only just arrived. Perimeter walls and most of the floors of the 20,000-square-foot area were stacked with pumps, hoses, IBC bins, portable equipment, valves, and various other materials, severely hampering day-to-day operations. The Baker team was tasked with installing the racking as soon as possible.
R. Baker & Son worked with the client to lay out the racking on shop drawings, followed by a 3D model, before we got to work assembling and installing over 1,000 linear feet of racking. Individual racks sections measuring 10 ft. high, 4 ft. deep, and 20 ft. in length would be stacked two high for a total height of 20 feet. The racking system was rated to support up to 4,000 lbs., a necessity for storing large pumps and motors weighing as much as 1,500 lbs. A site-specific safety plan was developed and daily toolbox talks were conducted in coordination with the client's safety manager.
We had four teams working on the project, two assembling the racking systems and two installing and anchoring them. Upper racking levels were placed using two forklifts, assisted by an articulating boom and scissor lift, and tied into the building's steel beams to prevent any movement. Bottom racks were securely anchored to the floors. Ten bollards were installed in specific areas to prevent forklifts from damaging the new racking systems.
Before we finished the installation project, the client asked for our assistance loading the miscellaneous equipment and materials on the new racks and we were happy to oblige. We also assisted with the installation of new lighting in all of the aisleways, brought in a large new shop air compressor, and installed new prefabricated maintenance tables.
Working hand-in-hand with the client, the entire project took just over two weeks to complete. They were relieved to have finally solved a problem they'd had for nearly a year and have a functioning warehouse and maintenance area with manageable inventory control.
About R. Baker & Son All Industrial Services
R. Baker & Son All Industrial Services, a Minority and Women-Owned Business Enterprise (M/WBE), in business since 1935, is a premier specialized contractor operating in the United States, Canada, and Puerto Rico, with over one hundred employees and an exemplary safety record (we have been directly involved in six sites that received VPP OSHA Safety Awards). R. Baker & Son is financially strong, with bonding capabilities of over $20 million. Capabilities include industrial and commercial demolition, rigging, machinery- and plant-moving, dismantling, decommissioning, plant and equipment relocation, interior demolition, selective demolition, warehousing, wrecking and razing, millwright, plant reconfigurations, heavy rigging, salvage, environmental services, remediation, decontamination, abatement, and investment and asset recovery.
R. Baker & Son - All Industrial Services
190 Boundary Road
Marlboro, NJ 07746
732-222-3553
Full News Archive
2023
2022
2021
2020
2019
2018
2017
2016
2015
2014
2013
2012
2011
2010
2009
2008