Rigging Team Assists in Green Roof Installation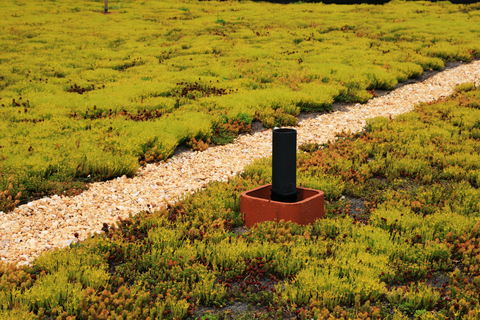 After a new office building construction project in western-central New Jersey where R. Baker & Son had been rigging architectural features in the expansive atrium, the construction manager asked if we could remain on the job to assist another contractor with the installation of four separate 2,600 sq.-ft. green roofs atop the facility.
A green roof is a layer of vegetation planted on flat or slightly pitched roofs. There are numerous benefits for building owners, including improved insulation, reduced energy use, extended roof lifespan (up to 200%), and better rainwater management, and installation of a green roof earns LEED credits. On a wider scale, green roofs can be aesthetically pleasing, improve air quality, and help mitigate the urban heat island effect.
To accomplish the task of rigging and staging the needed materials onto the building's roof, R. Baker & Son brought in an 80-ton hydraulic crane with extended jib and a team of riggers. The green roof contractor first installed layers of water-proofing membrane, vapor control, thermal insulation, and filter membrane. Next, R. Baker riggers hoisted sacks of special lightweight growing medium to the roof where workers spread it in a 4-inch layer.
Once the media was spread, it was time to install the plants, which came in the form of 3' x 6' rolled vegetated mats on which various sedum species and mosses were grown on an entangled nylon substrate. The R. Baker & Son rigging crew used a 6' x 10' steel platform with spreader bars to carefully lift the vegetated rolls to the roof. Using radios and hand signals, the platform was suspended just above the rooftop and slowly moved several inches at a time for easy access as the installation progressed. All four green roofs were successfully rigged and installed over two days. Today, three years later, the green roofs are very healthy, well-appreciated by employees, and delivering all of the promised benefits to the facility.
About R. Baker & Son All Industrial Services
R. Baker & Son All Industrial Services, a Service-Disabled Veteran-Owned Business (SDVOB) in business since 1935, is a premier specialized contractor operating in the United States, Canada and Puerto Rico, with over one hundred employees and an exemplary safety record (we have been directly involved in four sites that received VPP OSHA Safety Awards). R. Baker & Son is financially strong, with bonding capabilities over $10 million. Capabilities include industrial and commercial demolition, rigging, machinery- and plant-moving, dismantling, decommissioning, plant and equipment relocation, interior demolition, selective demolition, warehousing, wrecking and razing, millwright, plant reconfigurations, heavy rigging, salvage, environmental services, remediation, decontamination, abatement, and investment and asset recovery.
R. Baker & Son - All Industrial Services
190 Boundary Road
Marlboro, NJ 07746
732-222-3553
https://rbaker.com/environmental.php
Full News Archive
2023
2022
2021
2020
2019
2018
2017
2016
2015
2014
2013
2012
2011
2010
2009
2008