Tricky Job With A Very Aggressive Schedule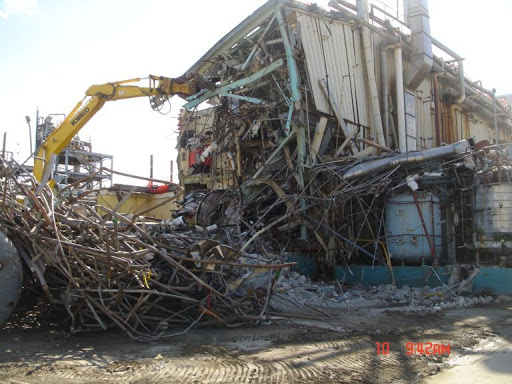 R. Baker & Son was contracted by a pharmaceuticals firm to perform selective demolition in their central utility plant. The company was slated to bring an innovative new drug to market, and it was especially critical that research and development went undisrupted.
The central utility plant supported many of the facility's operations with compressed air, chilled water, steam, nitrogen and DI water. The project required much of the old equipment to be removed and replaced by new equipment. This necessitated that crew members remove old housekeeping pads with jackhammers and saw-cut new drains into concrete. With adjacent R&D laboratories lining two walls of the CUP and a vivarium not far away, R. Baker & Son developed a detailed schedule in coordination with facility owners to suppress dust and minimize noise, and vibration.

Selective demolition and dismantling took place as a precise, step-by-step process. System piping and other equipment were carefully traced, identified, and marked for appropriate disposition. Hazardous substances and materials, including refrigerants and lead paint, were carefully removed and abated, and proper lockout / tagout procedures were followed.
To complicate the already-challenging project, the pharmaceuticals firm moved the completion date up by three months due to increased urgency in bringing the new product to market. The project kicked into an even higher gear and shifts were added in order to complete the project on time.

R. Baker & Son developed a detailed Rigging and Routing plan when it came time to move new equipment into the facility. After double-verifying weights and dimensions, team members determined how and when to move the equipment, and through which access points. Many pieces of equipment required careful disassembly in order to maneuver it into the building. In some instances, new equipment was installed in the midst of demolition.

As new equipment was rigged, installed, and readied to be brought online alongside existing equipment, crews went over a detailed checklist to ensure a smooth transition from old equipment to new. This was done without system interruption whenever possible, but when unavoidable, the work generally took place when the facility was unoccupied and details were meticulously planned and scheduled with owners.

Once the new systems were up and running, Baker crews concentrated on cleanup and punch list items. When all was said and done, the new central utility plant equipment was seamlessly integrated, and the project was successfully completed on time. Crews were treated to catered lunch on site were pleased.
About R. Baker & Son All Industrial Services

R. Baker & Son All Industrial Services is the premier specialized contractor in the United States, Canada and Puerto Rico. The Service-Disabled Veteran-Owned Small Businesses (SDVOSB) has been in business since 1935, has over 100 employees, an exemplary safety record (We have been directly involved in four (4) sites that received VPP OSHA Safety Awards) and is financially strong (bonding capabilities over $10 Million). Capabilities include industrial and commercial demolition, rigging, machinery & plant moving, dismantling, decommissioning, plant and equipment relocation, interior demolition, wrecking, selective demolition , demolition contractors in NJ and warehousing.

R. Baker & Son All Industrial Services
1 Globe Street
Red Bank, NJ 07701
Phone: 732-222-3553
Fax: 732-450-0311
Full News Archive
2023
2022
2021
2020
2019
2018
2017
2016
2015
2014
2013
2012
2011
2010
2009
2008