Demolition Live on Construction Cameras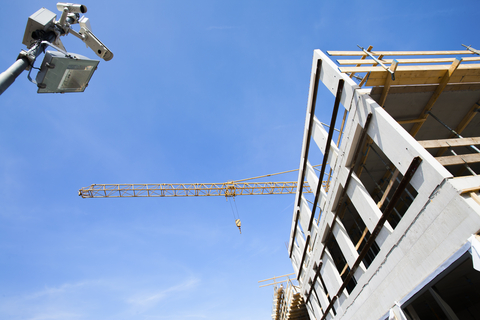 Construction cameras are becoming an increasingly popular way to remotely observe projects in real time. Technology that was, until recently, considered an "extra" on a jobsite is being recognized for the value they can bring to a project. R. Baker & Son has participated in numerous rigging and demolition projects, including a current demolition project at a pharmaceuticals facility, in which these high-tech camera systems have been utilized.
Construction cameras allow clients, contractors, developers, project managers, and sometimes even the general public, to remotely view live, detailed images of a jobsite. Following a project from demolition through completion optimizes project management by enabling viewers to verify project progress, identify potential and existing problems, investigate issues, monitor weather conditions, and prevent accidents, damage, and theft.
Time-lapse movies showing a construction or demolition project from start to finish in a matter of minutes can be easily created. Security video is often used in tandem or instead of photo imagery, but time-lapse movies are considered by many to be superior due to far-higher resolution, ability to zoom in without loss in image quality, wider angles, and easier editing. Solar energy can be used where power isn't available, and images can be transmitted over cellular connection.
R. Baker & Son is currently working on a demolition project in which project managers can explore the jobsite using remotely-controlled PTZ (pan-tilt-zoom) cameras, as well as fixed-position cameras. Clients receive scheduled emails with live image updates to keep up with project progress.
About R. Baker & Son All Industrial Services
R. Baker & Son All Industrial Services, a Service-Disabled Veteran-Owned Small Business (SDVOSB) in business since 1935, is a premier specialized contractor operating in the United States, Canada and Puerto Rico, with over one hundred employees and an exemplary safety record (we have been directly involved in four sites that received VPP OSHA Safety Awards). R. Baker & Son is financially strong, with bonding capabilities over $10 million. Capabilities include industrial and commercial demolition, rigging, machinery- and plant-moving, dismantling, decommissioning, plant and equipment relocation, interior demolition, selective demolition, warehousing, wrecking and razing, millwright, plant reconfigurations, heavy rigging, salvage, environmental services, remediation, decontamination, abatement, and investment and asset recovery.
R. Baker & Son - All Industrial Services
1 Globe Court
Red Bank, NJ 07701
Website: http://www.rbaker.com
Full News Archive
2023
2022
2021
2020
2019
2018
2017
2016
2015
2014
2013
2012
2011
2010
2009
2008